Ed 'Bunky' Lubereski
Friday, Nov. 10, 2017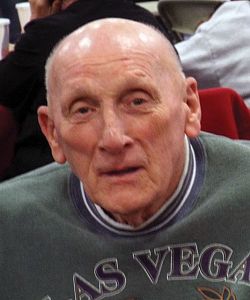 Courtesy photo
+ Enlarge
Ed "Bunky" Lubereski
Oct. 15, 1929 ~ Oct. 24, 2017
Edward Michael Lubereski – beloved husband, father, grandfather, great-grandfather, and uncle – passed away on Oct. 24, 2017, due to natural causes attendant to age.
Ed was born on Oct. 15, 1929, to Frank and Sophia Luberecki in Shamokin, Coal Township, Penn., and attended local schools as a youth. After graduation from high school, Ed enlisted in the U.S. Air Force, eventually retiring honorably as a senior master sergeant after 28 years of service.
He married his beloved Grace on July 31, 1951, and together they raised three children: Kathy, Sherie and Mike. During his military service, the family lived in a number of states and foreign countries, something they very much enjoyed. On retiring, they settled in 1976 in Ogden, where they have lived since. Ed spent most of those years there working for Whitehead Electric, taking advantage of his military training as an electrician.
Ed was known for his love of family and his heritage, especially polkas. He was a hard worker, honest and tender-hearted. Since settling in Ogden, he faithfully attended St. James the Just Parish.
He was preceded in death by his dear wife, Grace; his parents; his sisters Julia Blair, Clara Luberecki, Frances (John) Rogers, Sophie (Vincent) Marchetti, Joan (Bernard) Bolick, and Carol Luberecki; his brothers Alexander (Rose) Luberecki and Joseph (Frances) Luberecki; and a son-in-law, Rick Barnard.
Ed is survived by his children: Kathy Barnard, Sherie (Dan) Hogan and Mike Lubereski; 11 grandchildren; 18 great-grandchildren; his brother, Francis "Butch" (Maxine) Luberecki; and a brother-in-law, Bernard Bolick.
We will miss you, Bunk!
A Mass of Christian Burial was celebrated Oct. 28 at St. James the Just Catholic Church. Interment was at Evergreen Memorial Park.
Condolences may be sent to the family at www.myers-mortuary.com.