Empty Bowls at new time and venue this year
Friday, Jun. 08, 2018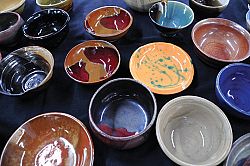 IC Archive photo
+ Enlarge
SALT LAKE CITY— Those who regularly attend the annual Empty Bowls fundraiser for Catholic Community Services will notice a few changes this year. The event, scheduled for a Friday evening rather than a Saturday afternoon, and it will take place at the FFKR Architects instead of at St. Vincent de Paul Dining Hall as in the past.
"FFKR Architects is donating their space for Empty Bowls this year so as not to conflict with our meals services at the St. Vincent de Paul Dining Hall and to allow for more space," said Danielle Stamos, CCS' director of public relations and marketing.
This year also marks the first that Even Stevens, the sandwich shop that is a long-standing partner of CCS, will donate the food for the Empty Bowls event.
"Even Stevens [has been] donating almost $200,000 worth of our food and supplies to our programs each year. Even Stevens is generously donating the food for this year's event as another example of our great partnership and common goal of fighting hunger," Stamos said.
Last year, Empty Bowls raised $10,000; this year the goal is to double that amount, "which will allow us to continue serving those experiencing homeless and poverty in our community," Stamos said.
Empty Bowls is the only fundraiser for the CCS Homeless Services programs, which include the St. Vincent de Paul Dining Hall and Weigand Homeless Resource Center. The fundraiser has been running for almost 15 years.
Every year, CCS has collaborated with Clay Arts, Utah, a local nonprofit, which donates the hand-crafted bowls to be sold at the event.
"Each $20 bowl sold at the event is equivalent to 22 meals," Stamos said. "Each day, we serve almost 1,200 meals at our St. Vincent de Paul Dining Hall. Each dollar donated, each bowl sold has a real impact on helping those we serve step out of homelessness."
This year the fundraiser also will serve as the inaugural event for CCS' new Future Leaders Board, a group of young professionals who are working to reach new audiences for CCS and engage a new generation of future humanitarians, Stamos said.
WHAT: Empty Bowls
WHEN: Friday, June 15, 6-9 p.m.
WHERE: FFKR Architects, 730 Pacific Ave., SLC
COST: Free entry; bowls start at $20; food and drink: $10