Fabulous finale for J.E. Cosgriff's youth group
Friday, May. 11, 2018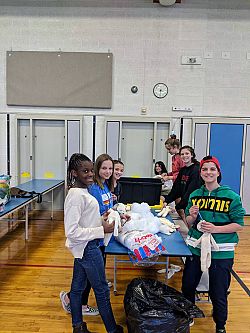 Courtesy photo/J.E. Cosgriff Memorial Catholic School
+ Enlarge
Stitching Hearts Worldwide paid a visit to J.E. Cosgriff Memorial School on May 21 and commissioned more than 25 middle school students as service volunteers.
Most of the items made by Stitching Hearts are donated to Lifting Hands International, an organization that delivers supplies to millions of homeless refugees in Lebanon, Jordan, Syria and Bangladesh.
Also on that Saturday, several middle-school students, teachers, parents and Fr. Andrzej Skrzypeic met in the school gymnasium for a lively and productive youth group service activity, led by the Stitching Hearts team of Kristi and Victor Wright. The entire group worked for more than two hours and completed the following:
50 back packs threaded, 20 sewn and completed
16 dolls- stuffed
12 pillows- filled
2 Plarn (plastic yarn) mats – finished (mats are made from tied together grocery store bags and woven on a loom)
The youth group of St. Ambrose Parish has had a meaningful and productive year. The goals for the youth group are to strengthen faith formation and pastoral practice with adolescents through prayer, Mass attendance, serving others in need and participating in recreational activities. The youth group meets every six weeks throughout the school year and has participated in service projects such as raking leaves for the elderly, tying flannel blankets for Catholic Community Services, and creating useful and decorative gifts for local rest homes.
Thank you to Ms. Martina Gehrig and Ms. Jill Curry, youth group leaders, for volunteering the time and effort to bring the youth of our parish together in prayer, service, and fun, throughout the school year.
Courtesy of J.E. Cosgriff Memorial School