Father Dillon's chalice is gift from family of deceased Knight
Friday, Jul. 01, 2022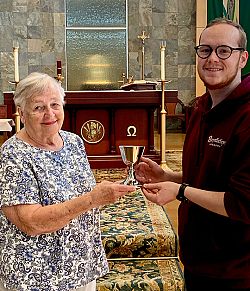 Courtesy photo/Lisa Romero
+ Enlarge
Gary Stolz
Special to the Intermountain Catholic
When Lou Holdener, Past Grand Knight of the Knights of Columbus Assembly 2393 in St. George, passed to his eternal reward in November 2020, he chose to have a chalice instead of a Bible presented by the council to his family after his passing. This chalice, engraved with his name, date of birth and date of death, could then be gifted to a deserving missionary priest or seminarian to help them defray expenses of their priesthood.
The St. George Knights of Columbus Assembly and Council gave financial support to seminarian Tristan Dillon for many years, so Fr. Dave Bittmenn, the assembly's Faithful Friar and pastor of St. George Parish, contacted then-Deacon Dillon to ask if he would accept the chalice. He said he would be very grateful to receive it, and it was presented to him by Lou Holdener's wife, Marie Holdener, and other family members.
Father Dillon was ordained a priest on June 24. He has been assigned to St. George Parish as parochial vicar, so the chalice will make its way back to St. George.
Gary Stolz is a member of Knights of Columbus Assembly 2393.