Filipino community celebrates 10 years of Tagalog Masses, 20th anniversary priest's ordination
Friday, Nov. 03, 2017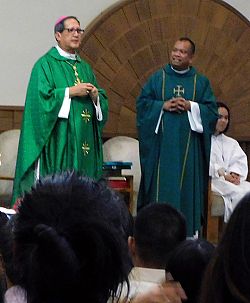 IC photo/Laura Vallejo
+ Enlarge
BOUNTIFUL — The Filipino Catholic community celebrated three anniversaries on Oct. 29: the 10th year of the Tagalog Mass in the diocese and the 20th anniversary of priestly ordination for Fr. Rene Rodillas, pastor of St. Olaf Parish. This also marks the 10th year that Fr. Rodillas has been in the Diocese of Salt Lake City.
In recognition of these occasions, a Mass of Thanksgiving took place on Oct. 29, with Bishop Oscar A. Solis, as the principal celebrant. Fr. Rodillas concelebrated the Mass, which was in Tagalog, one of the main languages of the Philippines, where both men were born.
"Today we are very happy to celebrate the 10th year of the Catholic Filipino Mass here in the Salt Lake Valley," Bishop Solis said during the Mass, speaking in Tagalog. "We are also celebrating Fr. Rene's ministry in the diocese as well as his 20th anniversary of his priesthood ordination."
In his homily Bishop Solis emphasized the importance and essence of love.
"Love is the greatest of the commandments. God will judge us according on how we treat others," he said.
Emphasizing that love is put into action through good deeds, Bishop Solis said, "Let us be sure that we are doing everything that we can to fulfill that greatest commandment."
Before the ceremony concluded, Fr. Rodillas expressed gratitude to the bishop for his presence that day. He also spoke a bit about his journey as a priest in Utah.
Fr. Rodillas, who was ordained for the International Congregation of the Divine Word Priest and Brothers on Dec. 12, 1997, was invited to serve in the diocese 10 years ago by the Most Rev. John C. Wester, who was then Bishop of Salt Lake City. He began his ministry in Utah on Oct. 15, 2007. His first assignment was at Sts. Peter and Paul Parish in West Valley, where he encountered a group of fellow Filipinos. He celebrated the first Filipino Mass there on Nov. 10, 2007.
In 2011, when he was assigned to Saint Olaf Parish, he transferred the Tagalog Mass to the Bountiful parish, which has 30 registered Filipino families.
"It's a beautiful to be able to celebrate in your own language … but there is one thing that we must all understand: It doesn't matter if we are Filipino, Hispanics, Anglo, Tongans, Vietnamese – we are still one Church and we are called to be one Church consisting of our various cultures," Bishop Solis said.
Fr. Rodillas is the first Filipino priest to serve in the Diocese of Salt Lake City; there are now two others, Fr. Joseph Frez and Bishop Solis. Fr. Max Omaña, chaplain at Hill Air Force Base, also is Filipino.
"The Church is a beautiful manifestation of community in which we live and in which we are all one Church," Bishop Solis said.
At the dinner celebration that followed the Mass, people enjoyed music, dancing, games for the children and some traditional Filipino dishes.
"It's very special to profess [our faith] in our own dialect. … It reminds us of the Philippines back home. We feel like we are home," said Mark Enarsan, a member of the Catholic Filipino community in Utah.
Enarsan said he was happy to celebrate the 10 years of the Tagalog Mass and both Fr. Rodillas' anniversaries.
"He is very special; 20 years of serving the people is just amazing," Enarsan said.
For Rett Pomchendea and his wife, celebrating Mass in Tagalog is heart-warming, because "it brings us back memories from the Philippines," he said. "Talking to God in our own language makes us feel very comfortable, it makes it easier," he said, and added anniversary wishes for Fr. Rodillas.
"Fr. Rene is just great. I wish him a longer priesthood, and a very healthy life," Pomchendea said.