Florence M. Gibb Wilson
Friday, Sep. 11, 2020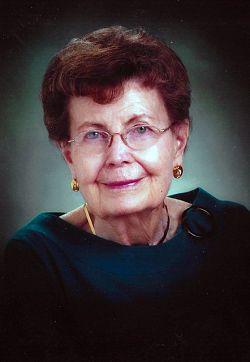 Courtesy photo
+ Enlarge
June 23, 1925 ~ July 23, 2020
Our sweet mother, grandmother and friend, Florence M. Gibb Wilson, passed away peacefully at home on July 23.
She was born June 23, 1925, to Irene Walsh Gibb and Gilbert M. Gibb, in Forrest, Illinois, joining a trio of older brothers, George, Dan and Paul. Six years later, the family welcomed Flo's younger sister Gerry.
By that time, the family had moved to a farm in Morral, Ohio. Her mother was a former schoolteacher and valued education, even for girls. When a teacher at Flo's high school recommended that she apply to the College of Mt. Saint Joseph in Cincinnati, Flo was hopeful that would be her ticket to the big city life she dreamed about.
Flo earned a full scholarship and graduated with honors in 1946 with a dual degree in English and Spanish. After graduation she worked as a secretary for the Ford Motor Company in Mexico. Within two years, she was back in Cincinnati, working as a translator in the export division of a company that made the first refrigerator with shelves in the door.
A lifelong, devoted member of the Catholic Church, Flo was on her way to daily Mass one fateful day when she greeted a young man she had met at her college prom. On Sept. 2, 1950, Jack and Flo began their married life, one that would eventually take them to Salt Lake City, where they raised a family that grew to include eight children.
Once the demands of full-time motherhood eased, Flo contributed time to such organizations as the Assistance League and St. Martha's Guild baby layette project. She was a longtime member of the Catholic Woman's League. Flo had an abiding belief in God and knew that one day she would be reunited with her parents, siblings and her beloved Jack, who passed away in November 2019.
Survived by children John (Lynn); Anne (Con) Psarras; Sarah (Rick) Miller; Madeline (Bill) Grieder; Timothy (Marianne); Margaret (R.J.) Chleboski; Peter (Marian); and Jean; 16 grandchildren and nine great-grandchildren.
Preceded in death by cherished grandchildren Kimberly Wilson and Michael Miller.
A funeral Mass was celebrated July 29, 2020 at St. Vincent de Paul Catholic Church. Flo was laid to rest next to Jack at Mr. Calvary Catholic Cemetery.
In lieu of flowers, please consider donations to the Catholic Foundation of Utah, 27 C St., Salt Lake City 84103.