For Utah's legislative session, Catholics learn to advocate on dignity of human life issues
Friday, Feb. 07, 2020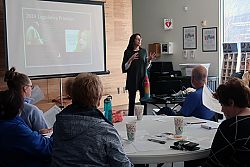 IC photo/Linda Petersen
+ Enlarge
WEST JORDAN — Catholics who make the effort to let their legislative representatives know how they feel can make a difference when it comes to laws affecting the dignity of human life, Jean Hill, director of the diocesan Office of Life, Justice and Peace told those gathered at the Respect for the Dignity of Life workshop Feb. 1.
"As Catholics, we are morally obligated to be part of the political process, to be a voice for the voiceless," she said. "This is an opportunity to really say 'we're going to take care of those who are most vulnerable and we want to make sure our legislators keep that in mind.'"
Catholics from around the diocese learned how to effectively advocate at the workshop held at St. Joseph the Worker Catholic Church. At the event, Bishop Oscar A. Solis encouraged those in attendance to get involved in working on these issues.
One of the bills currently before the Utah State Legislature that the diocese is most concerned about is HB90 Child Abuse Reporting Amendments being sponsored by Rep. Angela Romero (D-Salt Lake City). If passed, this bill would eliminate the exemption for clergy from reporting child abuse or neglect revealed to them in Confession.
"Confession is not confession to a priest; it is to God before the witness of the priest," Bishop Solis commented. "For us priests, it is very sacred, very holy."
If passed, this bill would not only break the Seal of Confession and force priests to risk excommunication or prosecution for not complying, it could hurt victims by violating their confidentiality in confession, Hill said.
During the workshop, Hill also shared the specifics of several other bills coming before the legislature that she, as the diocese's representative, is tracking, and the diocese's response to them (see sidebar p. 16).
When communicating with one's representatives on legislation, it is important to be knowledgeable about the issue and the bill(s) related to it, to be courteous, brief and to tailor one's message to one's audience, Hill said.
While meeting with a legislator face to face is most valuable, making a phone call or sending an email or letter can be effective, too, she said. Putting "Constituent concerned about X" in the subject line is more likely to generate a response over a more generic heading or a form email, Hill said. Advocates can also email members of the committee hearing the bill.
"Even if you're not a constituent, letting legislators know why a bill has moral issues, or why a bill is concerning from a religious perspective, matters," Hill said.
For the second half of the workshop, participants broke into groups and worked on crafting specific messages to share with legislators.
"The more voices we have presenting one perspective the better off we are, because legislators care if a bunch of their constituents care about an issue," Hill said.
Also speaking at the workshop was Catherine Stokes, a physician and a member of the diocesan Respect Life Commission. She addressed HB93 End of Life Prescription Provisions, the assisted suicide bill, as well as the negative impacts of abortion. She also gave information on the commission, encouraging participants to mobilize in their parishes and shared many of the resources available on the diocesan website (https://www.dioslc.org/offices/office-of-marriage-and-family).
Troy Rushton, from St. John the Baptist Parish, was among those who attended the workshop.
"It's a matter I care deeply about and advocate on any level I can within the parish. I'm active with my legislators, the press, so it's something we all need to speak about," he said. "Respect for life is the fundamental of everything else being built upon. If you don't have that dignity of life and a respect, all other laws have to come after that."
Julie Quintana and her daughter Valerie of St. Peter Parish participated in the workshop to learn more about how to advocate for life and to share what they learned with members of their parish.
"We really feel like it is important to enrich each other, enrich the community and to reach out to other people for the glory of God," said Julie Quintana, who is president of her parish's Catholic Women's Council.
Valerie Quintana, 23, who is both active at St. Peter's and the St. Catherine of Siena Newman Center, said it's important for Catholics of her generation to get involved in sanctity of life issues.
"Being here in Utah, no one really understands what it means to be Catholic," she said. "Being cradle Catholics, it's more of a routine and we know more of the culture of death than what it means to be a woman in the Catholic faith. … The role of motherhood has been diminished and having the Virgin Mary is a great role model in our faith, her being divine and a living tabernacle. ... I have a strong Catholic community of friends and knowing I have that support, of my mother, knowing that I'm not the only one who recognizes this is important when I go out into the secular world."
Hill is putting together an informal Catholic advocacy day at the legislature on Thursday. Feb. 27. For information on meeting with legislators on dignity of life issues with Hill that day, email jean.hill@dioslc.org.