Former Diocese of Salt Lake City priest relishes ministry as Maryknoll missioner in Africa
Friday, Oct. 12, 2018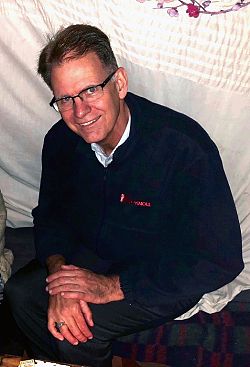 Photo courtesy Rick Bauer, MM
+ Enlarge
NAIROBI, Kenya — A former priest of the Diocese of Salt Lake City, Fr. Rick Bauer is bringing comfort and peace to many in East Africa who are sick and suffering as a Maryknoll missioner. Fr. Bauer, a certified chaplain and social worker, is teaching palliative care to those who treat patients affected by HIV/AIDS in Kenya.
The native of Goleta, Calif. was ordained in 1985 in Salt Lake City. He was assigned to several parishes in the diocese over the next 11 years, including the Cathedral of the Madeline, Our Lady of Guadalupe, St. Martin de Porres and Sacred Heart. Although Fr. Bauer wanted to be a parish priest, over time, it became clear the Lord was calling him to a different ministry, he said.
During his years in the diocese, he pursued a master's of social work at the University of Utah and ministered at Catholic Community Services, where he worked extensively with AIDS and HIV-positive patients when there was still a lot of fear about the disease.
"We were in over our heads," he said. "I kept thinking they would develop a vaccine and then I could leave and return to parish work."
After an international AIDS conference in Vancouver, Fr. Bauer realized he was being called to the Lord's work in Africa. He requested a sabbatical from Bishop William K. Weigand and began a three-and-a-half-year contract with the Maryknoll order. He first served as an associate missionary in Tanzania and Nairobi, Kenya. When his sabbatical was extended, Fr. Bauer went on to become executive director of Catholic AIDS Action Namibia, Africa.
Later he told the new bishop of Salt Lake City, the Most Rev. George Niederauer, that he felt called to become a Maryknoll priest permanently.
'He told me, 'If this is from the Holy Spirit, I can't stop you. If it's not, you'll never make it,'" Fr. Bauer recalled.
In 2005, Fr. Bauer was released from the diocese and incardinated into the Maryknoll order. Shortly afterward, he was asked by the bishops of Namibia to administer the U.S. relief programs there. At that time 25 percent of Namibia's population was infected with AIDS, the third-highest rate in the world.
These days, with treatment and prevention programs that number has dropped to 8 percent and, with medication widely available, care has turned to focusing on more than the physical needs of the patient, Fr. Bauer said.
"We need to understand and treat the person as a whole," he said. "Palliative care looks at the person on a social, emotional and spiritual level."
In 2015, Fr. Bauer left Africa to pursue residency and certification as a chaplain at New York City's Mount Sinai Hospital. For the last several months, he has been back in Nairobi working on palliative care policy issues and training medical professionals in palliative care.
Unlike in the United States, such care is instinctive and cultural among African health care workers, he said.
"The African culture by its very nature is holistic," he said. "With African students that culture is pushed aside when they begin medical school and learn Western medicine. I'm not teaching them anything new: I'm giving them permission to return to their roots."
Although he has not been back to Utah in several years except for a very brief visit to see a friend who had cancer, Fr. Bauer has very fond memories of his time here.
"I will be forever grateful that the gift of the people of Salt Lake City formed me as a priest," Fr. Bauer said. "Seminary teaches you about being a priest, but it is people who teach you how to be a priest."
Although his current role is expected to last 18 to 24 months, Fr. Bauer said his plans are uncertain.
"I plan and God laughs," he commented.
Fr. Bauer was recently interviewed about his experiences for the new Maryknoll podcast "Among the People." It can be heard at https://maryknollsociety.org/mission-stories/episode-15-father-rick-bauer-palliative-care/.