Fr. Blaine presides at his farewell Mass
Friday, May. 18, 2018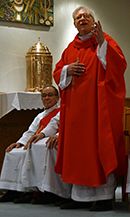 IC photo/Marie Mischel
+ Enlarge
AMERICAN FORK — Father James Blaine celebrated his final Mass in active ministry with the Diocese of Salt Lake City on May 14 at St. Peter Parish. The church was filled with wellwishers for his retirement, and the Knights of Columbus provided an honor guard for the priest, who for many years served as chaplain for the Utah State Knights and also as the friar for Father Escalante Assembly 1146, the Fourth Degree Assembly that serves the parishes in the area.
Concelebrants at the Mass were Fr. Kenneth Vialpando, pastor of St. Marguerite Parish; Fr. Rick Sherman, pastor of St. John the Baptist Parish; Fr. Patrick Elliott, a retired priest of the diocese; and Fr. David Gaeta, who has succeeded Fr. Blaine as pastor of St. Peter Parish.
Opening the Mass, Fr. Blaine said the day's first reading (Acts 1:15-17, 20-26) was fitting because, in the telling of the story of how Matthias was chosen to replace Judas as one of the Twelve Apostles, the Scripture includes the line "'let another take his place,' and that's what's going to happen tonight: Another will take my place."
In his homily, Fr. Patrick Elliott said his reflection was appropriate not only for the Gospel readings "but also for the legacy of another disciple of Christ, Fr. Jim Blaine."
The Gospel readings for the past few weeks have focused on love, Fr. Elliott pointed out. One understanding of love is to help other people thrive, "and that has been Jim's work as pastor here in this place since 1996," he said.
Fr. Blaine is an example of a true friend, one who "invests himself in his friends – their joys and sorrows, successes and failures become his own. He can't laugh when they are crying, and he looks for ways of sharing his gifts with the recipient," Fr. Elliott said.
Although he is retiring, Fr. Blaine will continue to serve as a prison chaplain, which he referenced in his remarks at the close of Mass.
"A lot of people ask, 'What am I going to do tomorrow?' Well, let's see, I'm going to do a couple of errands, and at 3 o'clock do Mass at the Promontory facility and Utah State Prison," he said before thanking those assembled for their presence.
He then undertook a ceremony he called the "passing of the keys" to Fr. Gaeta.
"After 22 years of carrying these – some of which you can get rid of because they don't work – I'm going to hand them over officially," he said.
"Not until midnight," Fr. Gaeta said, as the congregation laughed.
"You have a great parish here," Fr. Blaine told Fr. Gaeta. "Good luck. And you know where I live."
At the reception after the Mass, Andy Airriess, Utah Knights of Columbus State Deputy, presented a plaque to Fr. Blaine in appreciation for his many years of service to the State Council. He also presented him with the inaugural Utah Knights State Council Chaplain of the Year award.
Also Ray Folks, on behalf of Assembly 1146, presented Fr. Blaine with a thank you card and a cash gift. "Father has been our friar forever," Folks said.
Fr. Blaine thanked the Knights for their support and said he had enjoyed working with them.