Fr. Dennis W. Ruane
Friday, Aug. 03, 2018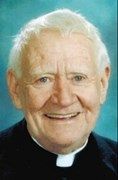 + Enlarge
Fr. Dennis W. Ruane, 86, was born on January 13, 1932 in Philadelphia, Penn. After growing up in the Philly area, he joined the Congregation of the Blessed Sacrament (SSS) in 1952 and prepared for religious life in Barre, Mass. He professed religious vows with the SSS on September 8, 1954. He studied at Saint Joseph Seminary (SSS), Cleveland, Ohio from 1954-1960, and was ordained a priest on September 19, 1959. His first assignment was as a teacher of Latin and Greek at the Eymard Seminary in Hyde Park, N.Y. from 1960-1967. He went to be a missioner for the SSS in 1970 to Uganda, Tanzania from 1970-1974.
After a few years of hospital work in Camden, N.J. and Fairfield, Conn., he returned to Tanzania from 1978 to 1987. When returning to the United States, he turned to his passion of counseling, working with the homeless and assisting with Alcoholics Anonymous in Albuquerque and Farmington, N.M. (1987-2000).
He became a high school counselor at Juan Diego Catholic High School, Draper, UTah from 2000-2009. From 2009-2015 he continued being a counselor in Hawaii. From 2015-2018, he lived in Highland Heights and Richfield, Ohio, serving as a spiritual director, counselor and lecturer in scripture at both SSS locations.
A man who had a passion for learning, he did graduate studies at Columbia University and later in life completed his PhD in psychology from the University of Utah (drug and rehab counseling) at the age of 80.
Fr. Dennis died peacefully, surrounded by SSS and the loving, caring Regina Staff on Monday, July 30, 2018. We are grateful to God for the gift of his humor and love for "seeing all things in the light of the Eucharist" (Rule of Life). Please contribute to his honor and the Education Fund of the Congregation of the Blessed Sacrament, 5384 Wilson Mills Road, Highland Heights, Ohio.
Services were August 2 at Regina Health Center in Richfield, Ohio. Burial followed at All Souls Cemetery, Chardon, Ohio. The Guest Book may be signed atwww.schultemahonmurphy.com