Fr. Felix-Rosas is new administrator at St. Thomas Aquinas Parish in Logan
Friday, Feb. 14, 2020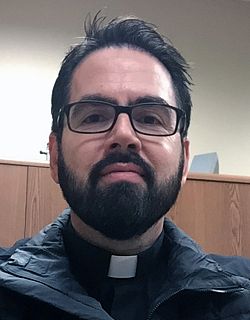 Courtesy photo
+ Enlarge
LOGAN — Father Rogelio Felix-Rosas, who recently was appointed administrator at St. Thomas Aquinas Parish and St. Jerome Newman Center, was born in Novojoa, Mexico. He holds degrees in philosophy and theology and speaks Spanish and English. He was ordained a priest Jan. 29, 2005 by Archbishop Ulises Macias Salcedo for the Diocese of Ciudad Obregon.
After ordination, he served in various positions in the diocese including parish vicar, administrator, diocesan director of lay ministries, seminarian spiritual former, director of vocations and youth ministry, vice chancellor bishop's office and youth movement evangelist.
He arrived in the Diocese of Salt Lake City in December 2016 and began serving as parochial vicar at St. Mary of the Assumption Parish. In August 2018, he became parochial vicar at St. Francis of Assisi Parish. He was appointed to St. Thomas Aquinas on Jan. 20, 2020.
What would you like your new parishioners to know about you?
I come with all the willingness to gather with people to listen. I come to work alongside Fr. Joshua (Santos, chaplain for the Newman Center) and to celebrate faith in the Eucharist every day. Many or most of these parishioners have known me for 20 years. In July 2000 here in Logan, we began an experience of pastoral service as seminarians, Fr. Manuel Ceron, Fr. Omar Ontiveros and myself, and three years later, Fr. Oscar Picos. Thanks to Fr. Clarence Sandoval, who received us and taught us pastorally.
What are you looking forward to most about your new assignment?
Before I arrived at this assignment, I had the opportunity to be with pastors from whom I learned including Fr. Flavio Leal, my first pastor in Ciudad Obregon, Sonora in 2004. I have also learned since I arrived in December 2016 in Utah from Fr. Stan Herba, Fr. David Bittmenn and Fr. Gustavo Vidal. From all of them I learned (and mainly from my training time in the seminary of Ciudad Obregon) to be a pastor, so I hope to be, like Jesus, a good shepherd.
What do you most expect from your new assignment?
I don't want it to be misunderstood. I do not expect anything from my new assignment because it is I who have to give, serve, pray and, above all, intercede for the parish entrusted to me. What I hope is to give my best, and I hope that together we can walk in the light of the Gospel, and above all, in the experience of the forgiveness and mercy of God the Father in the upcoming Lent.
As a priest, what has been your biggest challenge?
I remember when I was newly ordained my bishop asked me to be a seminary trainer in Ciudad Obregon, Sonora. I was appointed spiritual director of the introductory course and I thought it would be very difficult, but three years later I was appointed pastor in a community in the mountains in Granados, Sonora. I thought this again would be difficult, but after three years the bishop asked me to be his secretary chancellor and at the same time pastor of a community in Ciudad Obregon, Sonora. Again I thought that would be difficult. So one day I came to the United States, to a new culture, another language and a new diocese and I thought this would be difficult, but thanks to God and the Holy Spirit that enlightens me and that drives me to take one step more, everything is possible and nothing is impossible with the rosary in hand.
As a priest, what has been your most satisfying experience?
The day of my priestly ordination was the most satisfying day, in every sense of the word. The whole parish had seen me grow as a servant of the altar. And I can also say that my first parish, San Isidro Labrador in Granados, Sonora, is a parish that I carry in my heart and where I renewed my priestly ministry; Huasabas, Villa Hidalgo and San Juan was the whole parish. And now I can say that the day I was assigned to Saint Thomas of Aquinas in Logan, Utah has become a great satisfaction to be able to return to this community that taught me to be a pastor 20 years ago.