Fr. Jan Bednarz to retire Aug. 1
Friday, Jun. 26, 2020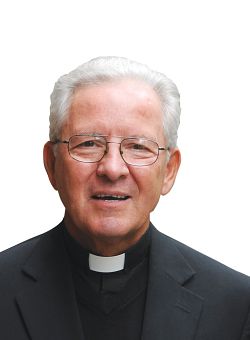 Diocese of Salt Lake City
+ Enlarge
TAYLORSVILLE — After almost half of a century of service to the People of God, Fr. Jan Bednarz, pastor of St. Martin of Porres Parish, is retiring.
He entered the seminary in 1966 in his home town of Wroclaw in Poland, at the age of 21. On May 27, 1972, he was ordained to the priesthood by the Most Rev. Bolesław Kominek, Archbishop of Wroclaw.
Fr. Bednarz then continued his education, receiving a licentiate in theology. His native language is Polish, but he also speaks English, German and Latin, as well as some Italian and French.
For seven years, Fr. Bednarz served as co-pastor of various parishes in Poland.
"Serving in Poland was very easy since the main thing was the CCD (catechism)," he said remembering his first years as a priest.
In 1978, he went to Ontario, Canada, where he served first as co-pastor, then as pastor. After about five years, he was transferred to Regina, Saskatchewan, where he served as pastor of a parish with three missions.
On a visit to the Diocese of Salt Lake City, he fell in love with the beauty of the Cathedral of the Madeleine, and when he received an invitation to minister in Utah he didn't think twice about accepting it, he said.
In 1989 he arrived in Utah, where his first assignment was as parish administrator, then pastor, of Christ the King Parish in Cedar City.
Fr. Bednarz remained in Cedar City until 1996.
"I was happy to serve the mission Church," he said, emphasizing that one of the things he enjoyed in southern Utah was celebrating the Thanksgiving and Easter Masses. "It was a really good experience."
In 1996 he was assigned as pastor to St. James the Greater Parish in Vernal.
"I remember there were wonderful parishioners there," Fr. Bednarz said.
During his time in Vernal, with the help of the congregation, the parish was able to have air conditioning installed, he said.
After the completion of his second term as pastor of St. James the Greater Parish, he was assigned in 2003 to St. Martin de Porres Parish in Kearns. This is the position from which he will retire, after more than two full terms.
"It has been the longest time I have spent in a [parish]," he said.
The parish has become his home, he said. "I have enjoyed every minute here."
Over the past 17 years, he has overseen some additions to the parish. Fr. Bednarz remembered when the parish purchased the pews from Blessed Sacrament Parish in Sandy.
"Monsignor [Robert] Servatius sold them to us, and it was a great addition to our parish," he said.
Msgr. Servatius was pastor of Blessed Sacrament Parish from 1986 until his retirement in 2016. He died in 2017.
During Fr. Bednarz's service, several stained glass windows portraying different saints were installed at St. Martin de Porres. He also began a weekly Latin Mass in 2007, in addition to the daily and weekend Masses in English.
"Every single week I have also visited the homebound and nursing homes. … Bringing Holy Communion and a message of hope has been one of my fondest memories from this ministry," he said. "I have enjoyed being busy here."
Praising the Lord every single day, being open to serve the People of God, and witnessing how people have returned to the Church have been some of the highlights of his ministry, Fr. Bednarz said.
However, due to his ongoing arthritis, the time to retire has come, he said.
In retirement, he plans to keep busy reading the lives of the saints. He also plans to continue celebrating the Latin Mass for at least one more year.
"I have enjoyed living in the state of Utah. ... It has been a good experience," he said adding that he is very humble for having been able to minister to the People of God.
"Fr. Jan truly cares about the condition of our souls; he shows his mission is about getting us to heaven," said Irene Woods, a St. Martin de Porres parishioner.