Fr. Joshua begins ministry in Utah
Friday, Oct. 05, 2018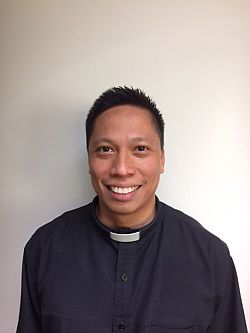 Courtesy photo
+ Enlarge
SALT LAKE CITY — In September, Father Jose Emilio Santos arrived to begin ministry as an extern priest in the Diocese of Salt Lake City.
Fr. Santos was born in Quezon City, Philippines.
In June 26, 2008, he was ordained for the Religious Institute of the Marian Missionaries of the Holy Cross (MMHC) in the Diocese of Balanga, Philippines.
Beginning in 2013, Fr. Joshua, as he prefers to be called, served in the Archdiocese of Los Angeles at Holy Family Parish in Artesia, Calif. There he came to know the Most Rev. Oscar A. Solis, who was an auxiliary bishop for the archdiocese before being appointed 10th Bishop of Salt Lake City in 2017. Their friendship prompted the invitation to come to Utah.
"When I asked him [Bishop Solis] if I could serve in the Utah diocese, there was no second thought," Fr. Joshua said.
His calling to the priesthood first came when he was in first grade.
"Initially it was not Christ who called me. … I think initially was Superman," said Fr. Joshua, bursting into laughter and showing that he has a good sense of humor.
He grew up watching superhero comics, so when he visited the church, the first thing he noticed was the priest's attire, he explained.
"My father served in the church as assistant to the priest, so the first time I went into the church I saw the priest and when he moved I thought he had a cape, and I told myself I wanted to be that person," Fr. Joshua said.
When he was in second grade, he started as an altar server and he established a closer relationship with God.
"I got to see the beauty of the Mass. It was not just about the cape, it was about the service. … I thought to myself, 'That's what I'd like to do for the rest of my life,'" he said.
This year marks his 10th year of priesthood.
For years after ordination he served in the Philippines, where he was asked by his superior to be in charge of the youth. When his term ended, he was asked to start a building project.
"I was asked to be a construction worker," said Fr. Joshua once again showing his good sense of humor. "I was asked to build a community center for the community."
At the same time, he was preparing to come to the United States, and to his superior's surprise, the center was built before Fr. Joshua started his journey.
When Monsignor Colin F. Bircumshaw, vicar general of the Diocese of Salt Lake City, asked him to arrive in Salt Lake City during the first part September, Fr. Joshua selected Sept. 8.
"The day is very symbolic for me. Sept. 8 is the birthday of Mary, and is a birth in my new life into the diocese with Bishop Solis," Fr. Joshua said.
He is now temporarily assigned to St. Ambrose Parish while he waits for his formal assignment.
Being a priest for him is to have a closer friendship with God.
"I don't view myself as higher than a lay person, I see myself as a person who journeys with the people," he said. "I see myself as a servant. This is an opportunity to serve God and his people, and in doing so I feel closer in my friendship with God."
Fr. Joshua speaks Filipino, Spanish and English, and while he was in Los Angeles he started studying Portuguese.