Fr. Patrick Reuse to retire Aug. 1
Friday, Jun. 26, 2020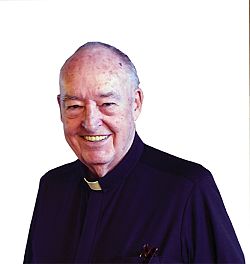 Intermountain Catholic
+ Enlarge
BRIGHAM CITY — When Jesuit Fr. Patrick Reuse departs from northern Utah, where he has ministered for the past 17 years, he will take little more than the clothes he wears. He already has thrown out some tattered clothing, such as the pants he used for gardening, and some miscellaneous items such as his nameplate.
Overall, though, he has little clutter to clean out. He has few mementos on the shelves, framed photographs on the walls, or clothes in the closet.
"I don't even have a pet rock," he said, but he doesn't feel the lack.
Growing up in post-World War II Hollywood, he and his mother – his father was killed in a car crash before he was born – lived with his widowed aunt and three cousins.
"We never had much," he said.
Caring for what they did have also discouraged him from having many possessions.
"When I was a kid, on Saturday morning, we had our chores, and I had the living room and the dining room, and the living room had a fireplace with shelves on either side, and I had to dust every one of those knickknacks," he said.
He attended a Catholic grade school, then a high school run by Jesuits, and then graduated from what is now Loyola Marymount University with a bachelor's degree in business administration. When his draft number was called, he chose to enter the U.S. Army as an enlisted man rather than an officer, because it meant less time in the service.
He served a two-year tour. His girlfriend called off their wedding, so on Sept. 25, 1961, newly discharged, he stood in the chapel of University of San Francisco and said, "'Hey, God, you've got to give me a sign'" of what to do.
He looked at his watch. It was 8 p.m.
"I said, 'God, you can go centuries, but I gotta know now.'"
Six minutes ticked by without a reply. He started out the side door, and under the panel where he put his hand he saw a sign that said, "For vocational information …"
"And I remember looking up at the tabernacle and saying, 'OK, God, you got me,'" he said. "I just figured, 'I'll apply – they won't take me.' They did. 'They won't keep me.' They have."
Fr. Reuse entered the Jesuit School of Theology at Berkeley, and earned a Master of Divinity. He was ordained a priest for the Society of Jesus by Bishop Juan Arzube on June 15, 1973.
Over the next 30 years, he served as associate pastor of parishes in Arizona and California. Then, in 2003, he came to Utah. His first assignment in the Diocese of Salt Lake City was as associate pastor of St. Mary Parish in Ogden (the church subsequently moved to West Haven). In 2007 he was appointed parochial vicar of St. Henry Parish in Brigham City, and in 2008 was named pastor of the parish and its mission, Santa Ana in Tremonton.
As pastor, one of his significant achievements was the building of the parish's 45,000-square-foot social hall, which was dedicated last year.
Fundraising for the social hall began in 2015, and by the time the project broke ground in the fall 2019, the parish had raised more than $600,000. This "from one of the smallest parishes in the diocese," said Deacon Karl Meyersick, who is assigned to the parish.
He attributes the success of the fundraising to Fr. Reuse's personality.
"He's not an arm-twister," Deacon Meyersick said. Instead, Fr. Reuse encouraged everyone's fundraising ideas, including those of two of the parish's young people.
"That was the kind of spirituality that Father brought out in people," the deacon said.
One struggle that Fr. Reuse has faced is speaking Spanish as he ministers to the many Hispanic members of his congregation. He tells the story of one of his first Masses in Spanish, when he couldn't remember the words for the dismissal, so he said, "Vamanos" (let's go).
Now that his language skills have improved, he said, "I don't do that any more."
After 47 years as a priest, Fr. Reuse is retiring. When pandemic conditions allow, he will move to the Jesuit house in Los Gatos, Calif. His departure date has not yet been set. It will be a big transition because "I don't know what's going to happen, but I've never known anyway," he said.
Fr. Reuse has been a mentor, Deacon Meyersick said. "He has helped me so much in his peacefulness and his spirituality – the sort of things that deacons always need to keep close to their heart."
When problems pop up, Fr. Reuse has faith that God will take care of it, "and oftentimes he figures out a way for us to help God take care of it," the deacon said. "His kind spirit, his generous heart and his love of God and his love of children just glow in him."
A farewell for Fr. Reuse will be scheduled if social distancing requirements permit.