Fr. Stephen Tilley is now administrator at St. John the Baptist Parish in Draper
Friday, Sep. 06, 2019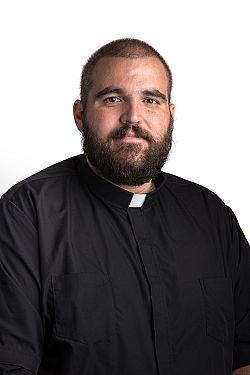 IC Archive photo
+ Enlarge
On Aug. 1, 13 priests in the Diocese of Salt Lake City assumed their duties as either pastor or administrator of the parish to which they have been assigned. Among them is Fr. Stephen Tilley, who was appointed administrator of St. John the Baptist Parish in Draper. Profiles of the other 12 priests appeared in the July 5 and July 19 issues of the Intermountain Catholic.
Fr. Stephen Tilley was born in Ft. Polk, La. He speaks English, German, Spanish and Italian. He holds an Associate of Science degree from Weber State University, a Bachelor of Arts degree from Mount Angel Seminary, and the graduate-level baccalaureate in Sacred Theology (STB) and a Licentiate in Sacred Theology (STL) from the Pontifical University of St. Thomas Aquinas – Angelicum University in Rome. He was ordained a priest on June 30, 2017 in the Cathedral of the Madeleine by Bishop Oscar A. Solis. Following ordination, he served as parochial vicar of the cathedral for a few months before returning to Rome to complete his STL. In August 2018 he began a year as parochial vicar at St. Joseph Parish in Ogden.
What would you like your new parishioners to know about you?
That I am excited to be their priest! I would also like them to know that my door is always open to them and any needs that they may have.
What are you looking forward to most about your new assignment?
Meeting new people and learning about this amazing community. I have been at SJB for a month now, and I must say, it is an awesome experience. This campus never rests! In all things, I am most looking forward to seeing what God is going to do in our community. God's love and grace is always sufficient for His people's needs.
As a priest, what has been your biggest challenge?
Honestly, the biggest challenge for being a parish priest is being at all the places I would like to be. I need to work on bilocation.
As a priest, what has been your most satisfying experience?
Witnessing God's grace change people's lives. God's generosity will not be outdone! I am continually surprised by our God's goodness.