Gail Louise Kunzer
Friday, May. 13, 2022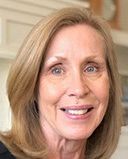 Courtesy photo
+ Enlarge
Gail Louise Kunzer
July 8, 1952 ~ May 2, 2022
Gail Louise Kunzer, loving wife, mother and grandmother entered eternal life on May 2, 2022, at age 69. She passed peacefully and with dignity surrounded by her loving family at home in St. George. Upon her tragic diagnosis of ALS two years ago, Gail contributed to neurological medical advancements through participation in the HEALEY ALS Platform Trial.
Born July 8, 1952, in St. Paul, Minnesota, to Patricia and John Weyandt, who preceded her in death, Gail was the fourth of eight children. She was admired for her radiant blonde hair, sharp wit and humorous stories. An incredibly hard worker with an innate sense of style, she enjoyed a career as a fashion buyer for high-end women's apparel stores in the Twin Cities and eventually sportswear for Snowbird Ski Resort.
Gail married Gary Kunzer in 1979. Together they raised three daughters in Shoreview, Minnesota before moving with their family to Salt Lake City in 1998. She always shared her passions with her family exposing them to lifetime sports, music, fine arts, theater, opera and literature. Gail planned many memorable adventures for their family – ski vacations to Michigan, summer visits to Lake Superior and road trips to national parks.
She was a lifelong learner and avid reader, adamant her girls receive the best educations she could provide. Each daughter graduated college in four years, developed professional careers, and loving marriages with children of their own. Her daughters and their families are her legacy.
If you have ever received a letter from Gail, you would have noted the beautiful cursive penmanship, which ultimately became her most effective form of communication. Through the elegant font, you could always hear her true spirit no matter her pain and suffering. Her letters often contained words of gratitude, which is the feeling we share to have known such a fabulous woman.
Gail is survived by her husband, Gary; and daughters and grandchildren Jessica (husband Chris, son Christopher "CJ"); Elizabeth (husband Andrew, daughter Katherine) and Kristi (husband Ben, daughter Ellie).
In Gail's memory, donations may be made to Barrow's Neurological Institute in Phoenix, where Gail received her clinical treatments. Gail would like her loved ones to know her love for them will last forever and ever.
A celebration of life will be held at St. John the Baptist Catholic Church in Draper on Monday, May 16 at 11 a.m. More detail is available at www.metcalfmortuary.com.