Generous hearts at St. Vincent de Paul School
Friday, Nov. 18, 2022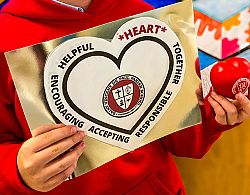 Courtesy photo
+ Enlarge
Saint Vincent de Paul Parish School
This year, St. Vincent de Paul Parish School's student council came with hearts on fire for helping their sister school in Kitale, Kenya: St. Emmanuel.
"We have a very easy life here in America, and they have a really rough life," said Lexie F., vice president of the student council. "They don't have shoes and they have to walk a really long way to school. We're really lucky to have transportation. We feel it's the least we can do to support them by raising money."
Because the council didn't raise as much money as they had hoped last year for St. Emmanuel's, they decided to do another fundraiser this year. For the "Penny Wars" fundraiser, each class was given a bin outside their classrooms to put pennies in. They also could add paper money or bigger coins to another class's bin, which would subtract the points that class earned.
Principal Gary Green said he was excited to see the students' motivation to raise as much money as they could for what they know is a worthy cause. "I love when the students' actions and understanding match the charism of St. Vincent de Paul," he said.
Overall, the students raised $2,047 for St. Emmanuel's School. The proceeds will go towards purchasing school supplies and uniforms for the students.