Grant to CCS helps refugees become citizens
Friday, Nov. 03, 2017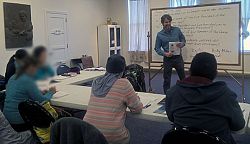 Courtesy photo/ESLC
+ Enlarge
Jaime Thaler
Intermountain Catholic
More refugees and immigrants in Utah will achieve citizenship over the next two years with help from Catholic Community Services of Utah and the English Skills Learning Center, which won a $250,000 grant from the U.S. Department of Homeland Security for this purpose.
Utah is home to about 65,000 refugees, and each year 1,200 new refugees and immigrants arrive from all around the world. Because many of them come with little to no English skills, they can have difficulty integrating into the community; this also can prevent them from becoming citizens of the United States.
To overcome the language barrier, through the grant CCS and ESLC have teamed up to help more than 500 refugees and immigrants who are on the path to citizenship. This is the third time DHS has awarded to them the two-year grant, which requires at least 400 people to be helped each two-year cycle.
"It's a highly competitive grant. Only a handful of states were awarded," said Aden Batar, CCS' director of Migration and Refugee Services. "That speaks to the reputation we have in the community and on the national level."
Since the late 1970s, CCS has helped thousands of people obtain citizenship. "We help them from Day One until they get their citizenship, and it doesn't always end there," Batar said.
Becoming a US citizen is a complex process. Catholic Community Services assesses the needs of an immigrant or refugee and offers help where it's needed, whether that's with speaking English, legal issues, or assistance to pass the citizenship test. Immigration attorneys at CCS help with the path to citizenship and other immigration needs.
The ESLC also has a respected track record. For almost 30 years, the nonprofit organization has trained community volunteers to teach English at various locations in Salt Lake County.
"We serve a diverse and unique population here in Salt Lake City of immigrants and refugees," because having a basic grasp of English is essential to pass the citizenship test, said Catherine Barnhart, ESLC's executive director.
The English Skills Learning Center has more than 125 volunteers who offer more than 200 hours of instruction and who also benefit from the program: While the immigrants and refugees improve their English skills, the volunteers learn about newcomers to America.
"Both are learning from each other," Barnhart says.
The DHS grant will help CCS and ESLC continue to serve the community.
"We work with each individual to ensure they are proficient in English, and understand how our democracy functions, while CCS' immigration program provides assistance on the legal side," Barnhart said. "The partnership between the English Skills Learning Center and CCS is crucial in helping refugees and immigrants achieve their goal of citizenship."
More than 95 percent of those who participate in the CCS/ESLC program pass the citizenship test, a successful formula that the Department of Homeland Security has recognized, and now more can be helped.
"There are so many people who are eligible for citizenship but haven't pursued it," Barnhart said. "We have a lot of people now coming to us."
For information about Catholic Community Services, including their walk-in services every Wednesday, visit www.ccsutah.org. For information on the English Skills Learning Center, visit www.eslcenter.org.