Group offers online social outlet for parishioners
Friday, Oct. 09, 2020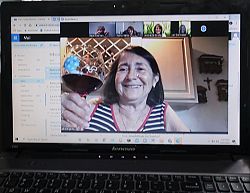 IC photo/Linda Petersen
+ Enlarge
COTTONWOOD HEIGHTS – Utah Catholics are happy that Eucharistic services have resumed at most parishes, but many are feeling the effects of social isolation caused by the pandemic. For now, there is no gathering for coffee and doughnuts after Mass; parishioners also are asked to social distance and to not linger and chat in the church foyer or parking lot.
At St. Thomas More Parish, the Meet & Mingle group is navigating this challenge in a unique way. Started two years ago by Nancy Hardy as a way for parishioners to connect, this group has met weekly during the pandemic by the videoconferencing app Zoom instead of in-person monthly as they did before.
"At church, even without COVID, sometimes people don't know a lot of people," Hardy said. "I just thought it would be good for new people coming in that don't know anybody and they don't want to sign up to be on a committee. They just want to meet people."
Since the advent of COVID-19, Hardy said it just made sense to make the Meet & Mingles weekly. The online format made it easy to organize, and it is a much-needed connection for people during this time of the pandemic, she said.
"Everybody really looks forward to it," Hardy said. "Some people say that's their only social thing for a while. You can be at home and just tune in."
The group has thrived in this format, and some participants say they hope they continue meeting this way after the pandemic is over.
Each Wednesday evening, the group meets electronically for about 40 minutes and "shares" a drink together. Each person imbibes their beverage of choice and shares a toast with the group. There are no rules or agenda for the group, which numbers anywhere from five to 15 women, and no predetermined topics of conversation. The only rule is that 'business' cannot be discussed; several of the women are members of the local Ladies of Charity chapter.
During a recent virtual get together the group discussed the dilemma of what to do about trick-or-treating during the pandemic, especially because the CDC recommends against it. While none of the women have children at home, all are used to trick-or-treaters coming to their door on Halloween. Ultimately, the group members decided to not buy candy this year and to instead donate the money to the Carmelite nuns, who had to cancel their annual fair.
Other items discussed at the Sept. 23 mingle were the recent windstorm and insurance woes related to it, the appreciated "techiness" of pastor Fr. John Evans, the parish's need for more cleaners and ushers at Mass, a night out at Hale Theater, recent trips and a friend and a sister in need of prayers.
In many ways, the group is a lifeline to the women. Jacqueline Sciotto moved to Utah a few months ago just before the pandemic and has not yet felt safe attending Mass in person. The mingle group has been her only connection to the parish. The other women in the group who have never met Sciotto in person say they now consider her a friend.
"It's been a blessing to me because I knew no one when I moved here," she said.
Hardy expects that once the pandemic has passed, the group will resume meeting in person on a monthly basis, but she also will consider the suggestion to continue the weekly Zoom gathering.