Gwenevere ('Gwen') Foren Kimose Torman
Friday, Jun. 14, 2019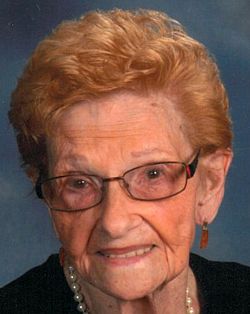 Courtesy photo
+ Enlarge
January 18, 1919 ~ June 2, 2019
Gwen Torman, age 100, passed away peacefully June 2, 2019, surrounded by her family.
Beloved wife, mother, sister, grandma and great-grandma, Gwen was born in Ogden on January 18, 1919. She met her husband, Charles Lee Torman, at a dance at the White City Ballroom and they were later married in Paris, Idaho in 1939, before settling in Ogden.
For over a decade, Gwen faithfully delivered the paper for the Ogden Standard Examiner and later worked as a lunch lady for North Ogden School. For more than 20 years, she managed the Wonder Bread Thrift Store on Grant Avenue. Upon her retirement, she volunteered in the thrift store at Ogden Regional Hospital. Gwen was a member of the Order of the Eastern Star, the Ogden Business Women's Association, the Elks and the Catholic Women's Association. She was a cherished member of St. James the Just Catholic Church for over 53 years and made many lasting friendships, especially her dear friend Rosie Tonti.
She was preceded in death by her husband Charles Torman, daughter Loie Rock, brother Dan Kimose and parents Andy and Foren Kimose. She is survived by her children Sherrie (Max) Carrigan, Scott Torman, Dan (Debbie) Torman, nine grandchildren, 15 great-grandchildren, four great-great-grandchildren, brother Jim (Betty) Kimose, sister DyAnn (Gary) Brown, and many cherished nieces and nephews.
Gwen enjoyed tending the flowers at her home of 56 years, sipping a glass of her favorite boxed wine and traveling. We have so many fond memories: gathering for Thanksgiving dinner at Grandma's house, all of us sharing one big long table, catching up on the latest news while rocking on her patio swing, taking in the view from her front yard of the waterfall on Malan's Peak, Grandma waving goodbye to us from her front door until we were out of sight. Grandma was very affectionate and showered all of us with hugs and kisses every time we saw her. Most of all, Gwen loved spending time surrounded by her family. Grandma had a beautiful life; she leaves behind an extended family and many friends that will always love and remember her legacy. We feel incredibly blessed to have celebrated her 100th birthday this past January.
A funeral Mass was celebrated June 6, 2019 at St. James the Just Catholic Church. Interment at Lindquist's Memorial Gardens of the Wasatch.
In lieu of flowers, please make a donation in Gwen's name to the St. Jude Children's Hospital.