Happy Mother's Day from Bishop Solis
Friday, May. 11, 2018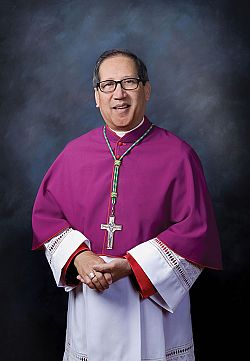 IC Archive photo
+ Enlarge
The month of May is a special time for our spiritual growth. It is a beautiful occasion dedicated for followers of Jesus and devotees of our Blessed Mother to contemplate and to remind us of Mary's great example of Christian virtues worthy to imitate and follow. Her unique role in our salvation history as the Mother of the promised Savior makes her very special in the eyes of God and all Christian believers. Her "fiat" – that disposition of openness, obedience and surrender to God's will – realized God's plan for the world and made possible the incarnation of God's mercy so that the Word, Jesus Christ, became flesh and dwelt among us.
For centuries, our Church has carried on this wonderful spiritual tradition of dedicating the month of May to Mary through many practices and events such as the recitation of the holy rosary, May flower offerings and crowning of Mary. These are good reminders for us of the importance of Our Blessed Mother in our faith life, to teach children and teenagers to love and develop strong devotion and affiliation to the Virgin Mary, and in order for us to get closer to God and live our faith more fully.
The life of the Virgin Mary manifested her total devotion, service and dedication to God carried out in a spirit of simplicity, humility, holiness, gratitude and joy. For this reason, she remains an icon and model of our faith. During the month of May, let us unite our hearts and pray to the Blessed Mother to seek her protection and intercession for ourselves, our family, community and the world. We entrust our lives under her maternal patronage so she can gather us, all her children, and lead us to closer union with God.
As we render honor to Mary, the Mother of God, we remember and pray for all our earthly mothers during this Mother's Day weekend. We lift our hearts in prayer and thanksgiving for our mothers living and dead, for all their sacrifices, for taking good care of us and for being the face, the love and the protection of our Blessed Mother in our midst.
To all our moms, we offer you this special prayer:
Almighty God, our heavenly Father, in your goodness you gave and shared with us the Blessed Virgin Mary to be our Mother. You created our own mother here on earth as a blessing in our life with her generosity, love, care, comfort, guidance, understanding and compassion. In gratitude for all the sacrifices our mothers make for us, we ask you to bless them with your grace so they may be strong, healthy and steadfast in their care for us. Fill their hearts with your joy, love and peace. Keep them safe and protect them from every danger, evil and harm. We ask these in the name of Jesus your Son.
Amen.
Happy Mother's Day!
The Most Rev. Oscar A. Solis
Bishop of Salt Lake City