Holiday donations being collected for those in need
Monday, Nov. 16, 2020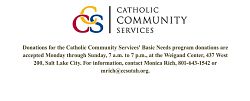 + Enlarge
SALT LAKE CITY – The recent snowfall that hit all parts of the state is just one more indication that the holiday season is quickly approaching.
This year despite the changes, restrictions and hardships that the COVID-19 pandemic has brought not just to Utah but worldwide, organizations such as Catholic Community Services of Utah are in full gear, working to make this holiday season special for people in need.
"In a year that many people never saw coming, families have to make decisions and sacrifices that are impacting their income for the health and safety of themselves and others," said Brittany Moulton, Catholic Community Services' community relations manager.
With the pandemic, some two-income families have become single-income families, and "some households have lost their jobs altogether," she said. "Children that once received school meals are finding those resources more difficult to access. People are trying their hardest to adapt, especially during this holiday season."
To help create a happy holiday season, CCS is collecting donations for a variety of programs.
Traditionally, the Gift of the Drummer program allowed donors to be assigned a child who was helped by CCS's Migration and Refugee Services and Basic Needs. Donors were given information such as the child's clothing sizes, and they were asked to purchase items for that child. This year, though, "All clients have been assigned," said Cynthia Mecklenburg, CCS' director of communications.
However, donations are still being accepted for the Basic Needs program in Salt Lake. Among the most needed items are small containers of body lotion, socks, underwear, warm winter hats, warm gloves, hoodies, hygiene items for women, lip balm, deodorant, hand warmers, coats and bus tokens. All clothing items should be new, although gently used coats will be accepted.
CCS also will partner with the Utah Knights of Columbus for the annual Coats for Kids program. Donations of new coats and other winter clothing for this program are being accepted at local parishes.
Holiday food baskets also are being assembled. CCS' Basic Needs program in Ogden began distributing Thanksgiving food boxes on Nov. 3 and will continue to do so through Nov. 25. The boxes include a turkey, boxes of stuffing, potatoes, onions, green beans, canned pumpkin and canned fruit. Donations of these items can be dropped off at the CCS warehouse located at 2504 F Ave. in Ogden.
In particular, donations of turkey breasts to give to single people, and gravy mix packets are needed, Mecklenburg said.
The pandemic has caused an increase in the number of people CCS serves.
"For most of our clients, the situation they find themselves in is not one they ever would have wanted," Moulton said.
She emphasized that people in need want to get back to a place where they are self-sufficient, and "often just need a small hand up to get there. Providing that support for someone else can be the very thing that helps them take the next step."