Holy Cross Associates create Advent prayer calendar
Friday, Dec. 01, 2017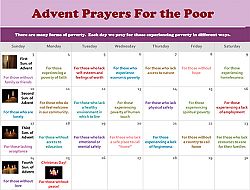 Courtesy of HCM
+ Enlarge
On Nov. 18, 15 Holy Cross Associates of Salt Lake City and four Sisters of the Holy Cross met in Salt Lake to share good company and reflect on the First World Day of the Poor (Nov. 19, 2017) as declared by Pope Francis.
The group meets quarterly for prayer and reflection.
Holy Cross Sister Nilu Suting, a novice from Bangladesh who is living with the sisters at Our Lady of Lourdes convent, was welcomed at the Nov. 18 meeting, and Holy Cross Sr. Veronica Fajardo led a bilingual opening prayer, reflecting the diversity of the community.
Members of the group reflected on the question, "What are the different types of poverty you have seen in others or experienced in your life?" After discussion, and recognizing that there are many different types of poverty, the group members decided to name these different types of poverty and place them as prayer intentions on an Advent calendar. They also committed to be more proactive in gathering items to be donated to the homeless in the community. Each time they meet they will collect the items and deliver them to local service providers to support their efforts.
Sr. Vero led the closing prayer prepared by Associates Esperanza Arias and Jackie Capella.
The next gathering will be Feb. 10. For information, call Mary Beth Vogel-Ferguson, 801-581-3071 or mvogel@socwk.utah.edu.