Holy Cross Ministries looks back on 25 years of ministry in the Diocese of Salt Lake City
Friday, Mar. 20, 2020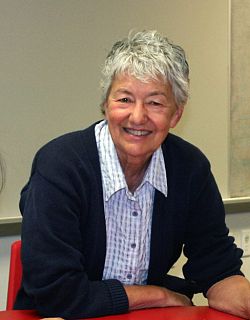 Holy Cross Ministries
Photo 1 of 7
SALT LAKE CITY — It's been 25 years since Holy Cross Ministries opened its doors in Utah. One person, Holy Cross Sister Mary Ann Pajakowski, has been there almost every step of the journey.
Sr. Mary Ann, a third generation Polish-American from South Bend, Ind., taught high school for 25 years before becoming more aware of the Latino population in her community. To address the needs of the Spanish-speaking congregation in her parish, along with Sr. Suzanne Brennan and others, she formed a service team. Their first endeavor was providing religious education in migrant camps in the summer. In time, they established a youth center. Sr. Mary Ann was then asked to come to Salt Lake City and help develop the education arm of Holy Cross Ministries.
Holy Cross has had a presence in Utah since 1875, when nine Sisters of the Congregation of the Holy Cross came to Utah from Notre Dame, Ind., at the request of Father Lawrence Scanlan, then one of only two Catholic priests in the territory. In 1891 he was named the first Bishop of Salt Lake.
Upon their arrival, the Holy Cross sisters established St. Mary's Academy and Holy Cross Hospital in Salt Lake City. Over the next 115 years, among their endeavors, the sisters helped found numerous schools in the diocese even as they continued to serve Utah residents at Holy Cross Hospital. Eventually, as hospital systems began to merge and consolidate nationwide, the Sisters decided to sell the hospital and used the funds to open a social services agency here. Sister Alice Mary Quintana was the first executive director. During that first year they served 1,000 clients; that number had grown to a yearly 3,500 by 2019.
In 1995, Sr. Alice Mary developed the Promotora Outreach Program made up of bilingual, bi-cultural outreach workers. The program provided health screenings, immunizations and prenatal health education in its early years. Since then it has grown to encompass all of the health needs of the Latino community.
"Alice Mary was one who really nailed the promotora thing — she knew that community outreach was essential, so she's the one who set that up, and that was a gem," Sr. Mary Ann said.
When the promotoras in Summit County identified a problem with Latino children scoring poorly on state tests, Sr. Mary Ann got involved. She began by volunteering in the Park City School District's after-school program. Finding that program very limited, she asked for and received permission from St. Mary of the Assumption Parish's pastor, Monsignor Robert Bussen, to use one of their classrooms for an after-school program. She then enlisted the aid of the promotoras, AmeriCorps and other volunteers to staff the program. Before long, the program had 60 to 70 participants.
After that first school year, Sr. Mary Ann started a summer program at St. Mary's in response to the concern of parents who were worried their children might be drawn into gangs, she said. Then she got a small grant to pilot a Saturday preschool but ran into a snag when she discovered a lot of Latino parents thought children that age were too young to go to school. So Sr. Mary Ann and her staff went out to the three apartment communities where most of the Latinos lived and held preschool there.
"The parents came and they saw how beneficial it was, that their kids enjoyed learning, so we got more buy-in," she said.
They then began a preschool at St. Mary's, starting with 22 children. Before long, they added a second class to supplement the school district's half-day kindergarten and preschool programs. Eventually, at the invitation of local principals, she moved the programs to their schools. In 2017, when a change to state funding requirements led to the school district having greater access to that funding, the school district took over both programs. Since that time Sr. Mary Ann has launched other programs, including the Parents as Teachers program.
"We're seeing some really good results; the children in the program kind of stand out from the other kids," she said.
Holy Cross Ministries still offers a full-day program for 3-year-olds at St. Mary's and a summer camp with an emphasis on outside play and conversational English. They sponsor monthly parent meetings on a variety of topics of interest to families. Twice a year they also offer Guiding Good Choices, a program for parents with students in the fifth through ninth grades, and are part of the Park City Early Childhood Alliance.
"That's where most of our established work is now," Sr. Mary Ann said.
In 1997, Sr. Mary Ann reunited with her former colleague when Sr. Suzanne became Holy Cross Ministries executive director. Sr. Mary Ann praised Sr. Suzanne and her skills.
"She is very intuitive; when she sees different floating pieces out there she can put them together fast," she said.
Sr. Suzanne took the promotora program established by Sr. Mary Alice and used the promotoras' feedback to develop new programs. She also streamlined Holy Cross Ministries' administration, which had been structured more like a hospital's, and began to develop other funding sources besides the endowment set up by the sisters.
With Sr. Kathleen Moroney, who founded the agency's Legal Immigration Program in 2000, Sr. Suzanne applied for and received a federal grant to serve undocumented people who are being abused and are willing to report the abuse, qualifying them for a visa that will allow them to reside legally in the United States.
Responding to a need for affordable childcare in Summit County, in 2015 Sr. Suzanne worked with several community partners to develop PC Tots extended day, early learning center and later PC Tots II. Seeing a need for health care for the uninsured among the Latino population, she helped found People's Health Clinic. She also provided training for Holy Cross Ministries staffers to develop their jobs, and to "see it in the context of mission," Sr. Mary Ann said.
In 2014, Sr. Suzanne left Holy Cross Ministries when she was called to be general treasurer of the Congregation of the Sisters of the Holy Cross.
"These are amazing women with an amazing charism, really feminists before their time," said current HCM Executive Director Emmie Gardner of the sisters who built Holy Cross Ministries. "We are honored to carry that legacy forward in the absence of growing sisters. Maybe there aren't people joining the religious orders anymore, but maybe there are a whole bunch of [us] people … that resonate with the mission of the Sisters of the Holy Cross, to partner with religious to continue that legacy into the future."
As it moves into the future, Holy Cross Ministries is putting together a strategic plan to expand its ministries including developing some new programs in the Salt Lake Valley.
"In the last five or 10 years the need has even grown more because of the current political climate and attitude towards immigrants and refugees," Gardner said. "All the more there need to be organizations like Holy Cross Ministries who really are willing to lean in and be that advocate for people who through no fault of their own are being demonized and villainized when they are just trying to make a better life for their families."
Holy Cross Ministries will celebrate its 25th anniversary this spring: the form that celebration will take is still being explored based on the evolving COVID-19 situation. Details will be forthcoming on the organization's website and social media channels.