Holy relics to visit Utah
Friday, May. 06, 2016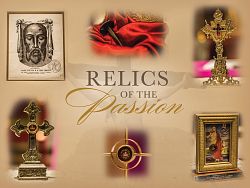 + Enlarge
SALT LAKE CITY — Three Utah parishes will host the Apostolate for Holy Relics during its tour of the United States in conjunction with the Year of Mercy.
A nonprofit organization founded by Thomas J. Serafin, "the Apostolate for Holy Relics has been engaged in providing presentations on holy relics since 2003," according to its website, www.relictour.org.
Eight relics are included in the tour: A relic of the True Cross, a stone from the place where the Last Supper was held, a piece of the Column of Flagellation, a piece of the Crown of Thorns, the effigy of the Veil of Veronica, a replica of the holy nail, a piece of bone from St. Longinus, and a thread from the cloth used as the wrapping for the Burial Shroud.
The 50-minute presentation includes meditations, prayers and intercessions with accompanying sheet music.
A Utah Knights of Columbus 4th degree honor guard will be at each of the three presentations to "help make the event a little bit more special," said Andy Airriess, Utah Knights of Columbus state secretary.
Although Airriess has not been asked to be a member of the honor guard, he plans to attend the presentation at St. Therese of the Child Jesus Parish, he said.
"Who as a Catholic could not look forward to the opportunity to be just in the presence of some of these objects" that are so central to the faith, he said. "Instead of having to go to Rome or some such distant place, they're coming here and we can be in their presence. That's tremendous."
Being able to venerate the relics will be very meaningful, agreed Father Javier Virgen, pastor of Our Lady of Lourdes Parish (Magna), who plans to celebrate two Masses, one in English and another in Spanish, for the event.
"This is a great blessing for us, to have that relic that is part of the cross of Jesus Christ, because that reminds us of the great love and commitment that Jesus offered himself to God the Father for our salvation and especially the meaning that through the cross we conquer death and sin and we are really free," Fr. Virgen said. "It will bring a lot of blessings from God to the people."
Apostolate for Holy Relics Utah Tour
Sunday, May 15, beginning at 2 p.m., St. James the Just Catholic Church, 495 N. Harrison Blvd., Ogden
Tuesday, May 17, beginning at 7 p.m., St. Therese of the Child Jesus Catholic Church, 624 Lennox St., Midvale
Wednesday, May 18, beginning at 7 p.m., Our Lady of Lourdes Catholic Church, 2864 South 900 West, Magna