Holy Week at the Cathedral of the Madeleine
Friday, Apr. 14, 2017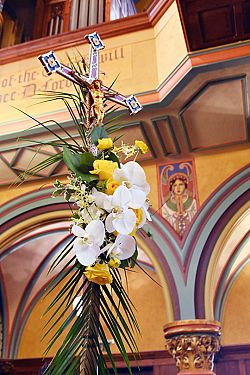 IC photo/Marie Mischel
+ Enlarge
Holy Week at the Cathedral of the Madeleine
309 E. South Temple, SLC
Holy Thursday
7:30 p.m.: Mass of the Lord's Supper
Good Friday
Noon: English Passion of the Lord
2 p.m.: Spanish Stations of the Cross
3 p.m.: Choral Meditation
The Cathedral Choristers will offer Pergolesi's Stabat mater.
7 p.m.: Ecumenical Stations of the Cross
Beginning at the front steps of the Cathedral of the Madeleine; participants will walk to different churches in downtown Salt Lake City and end
at the Cathedral Church of St. Mark, 231 East 100 South.
Holy Saturday
4-5 p.m.: Sacrament of Penance
9 p.m.: Easter Vigil Mass
Easter Sunday
8 a.m.: Mass in English
10 a.m.: Mass in English
Noon: Mass in English
3 p.m.: Mass in Spanish
5 p.m.: Vespers and Benediction
All events are free and open to the public. Check your local parish for events and times.