Immaculate Conception Parish to hold open house and potluck parish picnic in Copperton Park
Friday, Sep. 08, 2017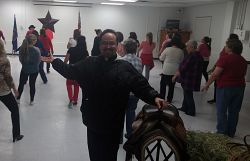 Courtesy photo/Fr. David Trujillo
+ Enlarge
COPPERTON — Immaculate Conception is one of the smallest and oldest parishes in the Diocese of Salt Lake City. It began as Holy Rosary Parish in 1890 in Bingham Canyon, a rough-and-ready place in those days with a largely European immigrant population, most of whom worked in the mine.
Salt Lake City's first bishop, the Most Rev. Lawrence Scanlan, is said to have visited outlying parishes on a black stallion. It is not hard to imagine him riding across the then (and to some extent still) wide open spaces of West Jordan to reach the canyon, where he celebrated Mass even before the parish was formed.
As time went on, Utah Kennecott Copper's mining activities overflowed into Bingham Canyon. The company ultimately bought out the entire Bingham Canyon and relocated its population to what is now Copperton.
The last Mass was offered at Holy Rosary Catholic Church in 1958, but Immaculate Conception Church was dedicated at its current site in 1949. Former residents of Bingham Canyon also established St. Joseph the Worker Parish in West Jordan in 1969.
Today, Copperton is a close-knit community in which close ties to the mine continue. Within the town itself there are quiet tree-lined streets, well-kept older homes and a town park where Immaculate Conception holds its parish picnic every September.
WHAT: Parish Open House
WHEN: Sunday, Sept. 10, 9-10:30 a.m.
WHERE: Immaculate Conception Church, 892 W. State Highway, Copperton
The open house will be followed by Mass in the park at 11 a.m., then a parish picnic. All are welcome. RSVP for the picnic by Saturday, Sept. 9; call 801-569-2706.