International Marian Celebration to be at the Cathedral of the Madeleine this year
Friday, Sep. 14, 2018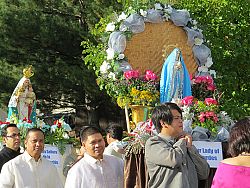 IC Archive photo
+ Enlarge
SALT LAKE CITY — The Diocese of Salt Lake City's inaugural Intercultural Marian Celebration was held in October 2011. Among the cultural communities that participated were African, American, Canadian, Croatian, Filipino, Korean, Native American, Samoan, Tongan, Vietnamese, and numerous Latin American countries.
In succeeding years it was held at various venues throughout the state, but this year the celebration returns to the Cathedral of the Madeleine, the mother church of the diocese.
"Our bishop wanted us to come back and celebrate in our cathedral, so we all come together, uniting and knowing that we are all a big family," said Maria Cruz Gray, director of the diocesan Hispanic Ministry Office, which organized the celebration since its inception.
This year's celebration will begin with a procession starting at the cathedral. The recitation of the Divine Mercy chaplet and the rosary in six different languages will follow.
This event is meant to celebrate all Catholic ethnic groups in Utah, who honor the Blessed Mother by different names but who share reverence for Our Lady. The annual Marian celebration "is important so we all can unite as a faith community," Gray said.
Honoring the Blessed Mother in her different representations is important because it shows how Catholics of different ethnicities, languages and cultures can unite and celebrate together the Catholic faith, Gray said.
This year 23 representations of the Blessed Mother will be displayed at the Intercultural Marian Celebration. The event is open to the public and everybody is welcome to attend.
Bishop Oscar A. Solis, will preside at the Mass, which will be celebrated in various languages spoken in the diocese. The evening will culminate with a feast featuring food from the different cultures that participate in the celebration.
Planning for the celebration starts months in advance as the Hispanic Ministry Office works with the different cultural community groups.
"Once a month we have been meeting and tuning up the details of the celebration," Gray said.
Mary is honored by various names in cultures throughout the world. At the celebration will be representations such as Our Lady of Guadalupe, Our Lady of Sorrows, the Virgin of Fatima, Our Lady of Perpetual Help, Our Lady of Mount Carmel, Our Lady of Manaoag, Our Lady of Grace, Our Lady of Lourdes, Our Lady of Evangelization and the Virgin of Copacabana.
"This occasion is a very joyful one where we can all show our love for Our Lady. … What we all have in common is our love for her," Gray said.
Everybody is welcome to participate in the Marian celebration. They are encouraged to dress in traditional regional costumes. Rosaries will be available "so we can all pray together," Gray said.
WHAT: International Marian Celebration
WHEN: Saturday, Oct. 6, 3 - 8 p.m.
WHERE: Cathedral of the Madeleine, 309 E. South Temple, Salt Lake City
Free and open to the public. All are invited. For information, call the Office of Hispanic Ministry, 801-328-8641 ext. 361 or 332.