J. Kent Howard
Friday, Nov. 20, 2020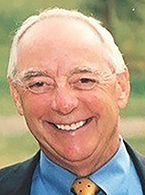 Courtesy photo
+ Enlarge
March 23, 1941 ~ November 3, 2020
Our beloved Kent died at home at the age of 79 on November 3, 2020, following an extended illness with PSP, Progressive Supranuclear Palsy. This relentless brain disease produces abnormal amounts of protein which degenerated his body but not his spirit. Positive to the end, he was determined not to let this disease get him down. He loved spending time with the family he treasured, traveling the world, taking the RV to far-off destinations and drinking a good Manhattan.
Kent was born March 23, 1941, in Blair, Nebraska, the son of Dr. C. D. Howard and Beatrice Howard. After graduating from Dana College with a degree in science, he worked for United of Omaha for three years before getting a degree in medical technology. For several years Kent operated labs and blood banks in the states of Washington and Nebraska. While in Fremont, Nebraska, Kent took the opportunity to get a degree in hospital administration from the University of Minnesota. This took him and his family to Utah, Kansas, Missouri, Illinois and Ohio, where he was either the COO or CEO of health care systems. He had a fierce determination to improve any hospital facility where he was in charge and to provide quality health care. Kent worked long hours and loved mentoring other young CEOs at his satellite hospitals.
Small in stature but long on natural ability and determination, Kent excelled in any sport he tried. He was All-State quarterback in high school and an excellent shortstop/second baseman on teams from grade school through college. Kent and Karen also bicycled over 30,000 miles recreationally, a hobby that became a passion.
Kent leaves behind a devoted family that he adored and left such a legacy to survive him: wife Karen; sons Michael, John (Kit) and Mark (Alfredo); grandchildren Carson (Cody), Jensen and Kate; great-grandchildren Olive and Everly, sister Sheila Seberg (Richard), Newport Beach, California, and numerous nieces and nephews in California and Indiana.
Services will be held at St. Mary of the Assumption Catholic Church, Park City, on December 5 at 11 a.m., by invitation only. Burial will be in his beloved Nebraska in the spring. No flowers please. Donations in Kent's name may be made to Senior Charity Care, PO Box 744, Kaysville, UT 84037; TunnelstoTowers. org; CurePSP,, donations@curepsp.org. Kent's brain has been donated for research at the Mayo Clinic, Jacksonville, Florida.