Jane Frances (Davis) Blair
Friday, Jul. 01, 2022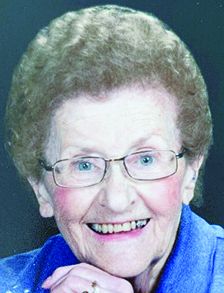 Courtesy photo
+ Enlarge
Jane Frances (Davis) Blair
August 21, 1934 ~ June 12, 2022
Jane Frances Blair was born on August 21, 1934, to George T. Davis and Lucille B. Haynes in Pocatello, Idaho. She was the ninth of 10 children.
She met her future husband, Charles M. Blair, at a dance at St. Anthony's Parish in Pocatello, Idaho. They were married on December 26, 1953, at St. Anthony's Parish. They lived in Idaho Falls, Idaho and then moved to Manhattan, Kansas where Chuck was stationed with the Army. They moved back to Idaho Falls after Chuck's military service before building a long and fulfilling life in Ogden in 1960.
Excited to have a family, Jane Frances and her husband traveled to Canada three times to adopt their three children, Paul, Gerianne and George.
She attended Weber State University, majoring in business education, where she was the Outstanding Business Education Student in 1971. She returned to her studies in the evening and summer school, until she earned her minor degree in history. She completed her Master of Science Degree at Utah State University in 1979.
Dedicated to teaching, she taught typing, Utah history and journalism at North Ogden Junior High for 15 years. She retired from teaching in 1986.
She was active in St. James the Just Catholic Church, where she was twice on the parish council, and maintained the parish scrapbook since 1970. She volunteered in the St. James Parish office and was a past president of the Cosmopolitan Club. She enjoyed playing golf and was a past president of the Golf City Ladies Association. Her hobbies included traveling with her husband, sewing and crocheting, and spending time baking and canning.
Jane Frances leaves behind three children: Paul of Ogden; Gerianne (Mike) of Broomfield, Colorado and George (Melanie) of Sunset; and six grandchildren and 10 great-grandchildren.
A special thanks to her son Paul for his love and care over the last seven years. Additional appreciation to Canyon Home Care & Hospice, Chris Richins, Denise Stephens RN, and Rileigh Bersanin CNA.
A Mass of Christian Burial was celebrated on June 23, 2022, at St. James the Just Catholic Church, Ogden. Jane Frances was buried with her husband, Chuck, at Myers Evergreen Memorial Park.
In lieu of flowers please make a donation in Jane Frances' honor to the American Cancer Society.