Jeannette Cances Welsh
Friday, May. 18, 2018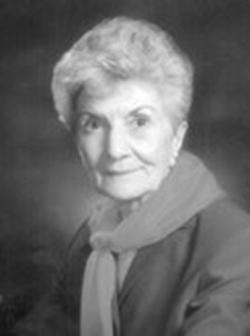 + Enlarge
February 8, 1920- May 4, 2018
Jeannette Cances Welsh, 98, died May 4, 2018. She was born February 8, 1920 to Emile B. Cances and Louise Laurent Cances who journeyed from France in 1911, thus enabling Jeannette to be a first-generation French/American. She graduated from Notre Dame Regional School, Carbon High School and the College of Eastern Utah. Upon graduating from Henager's Business College in Salt Lake City she was employed by the Department of the Army in Salt Lake. At the beginning of World War II, she transferred to the Department of the Navy in Washington, D.C. Returning to Price, she worked for various employers but the job she appreciated and enjoyed the most was as a legal secretary to attorney Therald N. Jensen, a position she held for 25 years.
A highlight for Jeannette was supporting her children in their various activities. She was a room mother for one or the other during their grade school years. She was a 4-H leader for her daughter; a den mother for her son and secretary throughout his Farm League, Little League and Pony League baseball years. She continued to support her children throughout her life.
Jeannette was an active member of the Notre Dame de Lourdes Catholic Church, where she volunteered from 1972 to 2002. She then was appointed sacristan and served until November 2007. She visited shut-ins, served as Eucharistic minister, lector and deemed it a privilege to offer Communion services. She received various awards for her service, among them the Notre Damean Award for Outstanding Service to Notre Dame Regional School and Catholic Woman of the Year in 1984 and again in 2001. Jeannette was a member of the Diocesan Council of Catholic Women, past president of Notre Dame Catholic Women, past president of Xi Kappa Chapter of Beta Sigma Phi and past state president of the Ladies Auxiliary of Utah Municipal League, now known as the League of City and Towns.
In her later years, she lived in Orem and regularly attended the St. Francis Assisi Catholic Church.
One of Jeannette's greatest joys was being grandmother to six precious grandchildren and 12 great-grandchildren, all of whom she dearly loved.
She was preceded in death by her parents; sisters Alice Oxarart, Leah Cances (Sister Emile Louise, CSC) and Marie Louise Cances; and brother Emile J. Cances. Survivors include her daughter, Danielle L. Welsh, and son, William J. (Christine) Welsh, III, grandchildren, great-grandchildren, nieces, nephews, grandnieces and grandnephews.
A funeral Mass was celebrated May 9, 2018 at Notre Dame de Lourdes Catholic Church. Memories may be shared online at www.mitchellfuneralhome.net.