John Anthony Vigil
Friday, Sep. 08, 2017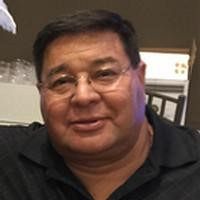 + Enlarge
Aug. 14, 1949 ~ Aug. 24, 2017
John A. Vigil, devoted father and loving husband, went home to his heavenly father on Aug. 24, 2017.
He was born Aug. 14, 1949 to John and Reyna Vigil in Montrose, Colo.
He married the love of his life, Joann Lucero, on Nov. 20, 1965. He was father to Tammy Vasquez and Randy Vigil, and grandfather to Alisha Salinas.
A lifetime resident of Riverton, he was a member of the Knights of Columbus. He was the owner of Getaway Limousines and retired from the city of Midvale to Mesquite, Nev.
He loved fishing, western movies, poker tournaments and horses. Through his big heart, he touched everyone's lives.
He is survived by his wife, Joann; his children, Tammy (Rudy) Vasquez of Riverton and Randy Vigil of Lake City, Colo.; granddaughter Alisha Salinas of Mesquite, Nev.; siblings Lorraine Vigil of Montrose, Colo., Alfred (Teresa) Vigil of Salt Lake City, and Leona (George) Gonzales of Las Vegas, Nev. He was preceded in death by his parents, John and Reyna Vigil.
A funeral Mass was celebrated Aug. 29 at St. John the Baptist Catholic Church.
Broomhead Funeral Home had the arrangements. Interment was at Wasatch Lawn Memorial.