John Theodore Prokopis
Friday, Sep. 03, 2021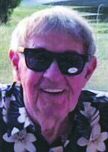 Courtesy photo
+ Enlarge
October 28, 1932 ~ August 15, 2021
"A Boy And His Basketball"
Our beloved Pops, 88, passed away peacefully at home on August 15, 2021 of heart failure. Born to Theodore John Prokopis and Helen Kosmopoulos Prokopis on October 28, 1932 in New York, Johnny grew up in Magna and at age 7 began a distinguished path for a love of basketball. He and his Greek buddies cleared a vacant field, put up a 2x4, and a plywood backboard. They were able to pool their coins and buy a hoop and basketball, thus beginning an amazing basketball career. He played varsity at Cyprus High School all four years, was leading scorer and rebounder, and won many games and accolades with his amazing ability.
John accepted a full basketball scholarship to Westminster College. He gained notoriety with countless awards and records as a 6-foot-tall center. He was team captain three years and four years all conference. He continued playing for Salt Lake County Rec League from 1955-60, and in Greek tournaments for Paulos Auto from 1951-58.
Johnny went on to give back by coaching CYO basketball and baseball for St. Ambrose and St. Vincent's for 21 years. Their teams won many games, and the other coaches commented how John could outcoach anyone, even with a less experienced team. He inspired success by example. His most celebrated moment in sports was being the first basketball player inducted into the Westminster Hall of Fame.
John spent 41 successful years as production manager at Packaging Corporation of America before retiring in 1997. JP played an integral role helping pave the way for a new plant in 1996.
He met and married his cherished Marie Hale in 1958. John was so proud of his three perfect children: Trish (Steve) More, Tedd (Joni) Prokopis and Brooke Dyer. Adding to his lineage came seven grandchildren, Madison, Camryn and Hannah More; John and Taylor Prokopis; Ethan and Nicholas Dyer. Preceded in death by his precious Trish and brother Billy.
We wish to thank Rocky Mountain Hospice for their compassionate care.
To honor the memory of Pops, in lieu of flowers, we would appreciate a donation to Unicef's Five Basketballs program which gives kids a chance to exercise and play; visit https://www.market.unicefusa.org/inspired-gifts/five-basketballs-to-give-kids-a-chance-to-exercise-and-play/ S2703300/.
A celebration of Johnny's life will be on Saturday, September 4, 5-8 p.m. at Starks Funeral Parlor, 3651 South 900 East Salt Lake City.