Joseph Whiteman
Friday, Nov. 27, 2020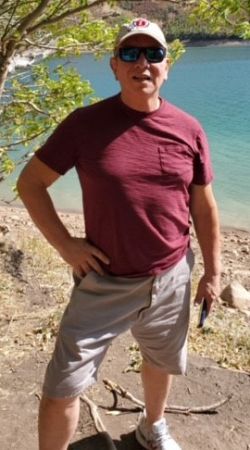 Courtesy photo
+ Enlarge
November 17, 1958 ~ November 5, 2020
Our beloved husband, father, grandfather, brother and uncle passed unexpectedly from his earthly home. We miss his caring spirit and joking personality. His joys were biking, running, dancing, martial arts, music and James Bond movies.
He was a member of the Knights of Columbus at St. Francis Xavier Catholic Church. Joe enjoyed entertaining his family and friends wherever he went. He adored and cared for his wife; and deeply loved his son Joshua and his wife Lindsey; and his beautiful grandchildren Karlee, Alek, Mikayla and Kody.
His life began in Cheyenne, Wyoming when he was born to Albert and Edna Whiteman. Married for 36 years to his loving wife Marti, he was affectionately known to his family as "Joey," "Uncle Joko" and "Jojo." His brothers Albert and Gary have gone before him, along with his father Albert Sr. and Bill.
He also leaves behind his sister Darlene and brother Charles. His joyful personality leaves a big void in our hearts and he is deeply missed.
A graveside service was held November 11 at Mt. Calvary Catholic Cemetery, where he was laid to rest.
The family would like to thank his friends and co-workers from RedRoc Transportation for their kindness and generosity.
Rest in God's loving hands and may the perpetual light always shine upon you.