Juan Diego senior takes top state science fair prize
Friday, Apr. 05, 2019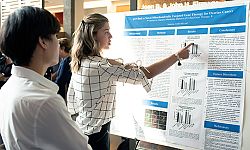 Courtesy photo/Juan Diego CHS
+ Enlarge
DRAPER —Juan Diego senior Madeline Joklik-McLeod will head to Phoenix, Ariz. May 12-17 to compete in the International Science and Engineering Fair as one of six grand champions named at the University of Utah Science and Engineering Fair.
Along with her overall win at the USEF on March 15, Madeline took first place in the senior biology and biochemistry category for her project, "p53-bad: a Novel Mitochondrially Targeted Gene Therapy for Ovarian Cancer."
In preparing for the fair, Madeline had the advantage of participating in Juan Diego CHS' Academy of Science. Thanks to the ALSAM Foundation, the academy has an ongoing relationship with the University of Utah College of Pharmacy.
The academy, which was established in 2008, provides participating students with the opportunity to take honors and AP classes. It also presents them with learning experiences that include independent research, seminars, internships and study trips outside the school.
"There's tremendous value to students in that the students learn how to work in a professional research setting," academy director Dr. Christine Celestino said. "They learn skills like self-directed learning, like Madeline, who had to teach herself about cancer research. … The students have to learn how to learn."
"I notice that students who come out of the internships, they tend to be more successful in their more difficult classes and they're more willing to take risks and take hard classes that they might not have been willing to take before," Celestino said.
After high school, students who have gone through the academy tend to be accepted into more prestigious universities than their peers and obtain scholarships; many of them are able to continue doing research, she added.
Generally, students participate in the academy between their sophomore and junior year, or between their junior and senior year. Each year, about eight to 12 students are enrolled in the program.
Madeline joined the academy after her junior year. As she developed the hypothesis for her science fair project, she was allowed to work for three months at the University of Utah Carol Lim Lab alongside graduate students and post-doctorate fellows.
Lim is the interim chair of pharmaceutics and pharmaceutical chemistry at the university.
Madeline first observed a researcher in the lab and then studied research papers on gene therapy. Then, with the researcher, she tested the response of cancerous ovarian cells that they had grown to a tumor suppressor called p53. Then they tested three mutations of the suppressor to determine which was more effective in targeting those cells.
Madeline said she was "completely shocked" when she was named a grand champion, a prize that came with an $80,000 Westminster College scholarship. She is considering the programs at Westminster, along with some from other universities. She hopes to study biology before going on to medical school to become a pediatric anesthesiologist.
The role of a pediatric anesthesiologist and his/her positive interactions with young patients is essential in the success of pediatric surgery, she said.
Along with her interest in math and science, service is important to Madeline. She is a campus minister, has participated in Kairos retreats, and is known for being kind to everyone, Celestino said.
"I see her as an extremely competent, caring individual," she said.
The International Science and Engineering Fair draws close to 1,800 high school students from 75 countries and is the world's largest international pre-college science competition. Just six high school students from the Utah state science fair were chosen to represent the state in the international competition. At last year's ISEF, more than 600 finalists received more than $4 million in awards ranging from $3,000 to $75,000 cash, scholarships, internships, and fellowships to Asia and Europe to participate in science institutes and conferences.