Judge Memorial Catholic High School athletic teams donate shoes to an athletic club in South Africa
Friday, Sep. 28, 2007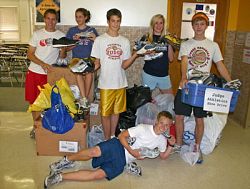 Intermountain Catholic

Photo 1 of 2

SALT LAKE CITY — Hundreds of athletic shoes of all types and sizes started piling up once the Judge Memorial Catholic High School athletic teams organized a shoe drive.

"When I thought about the changes I could make this year, I decided I wanted the teams to do a service project," said Mattie Reed, Judge Memorial's head cross country coach and assistant athletic director. "At first I was thinking about something like Habitat for Humanity, and then I saw a flyer for a used shoe drive for impoverished areas. It clicked in my mind how quickly runners go through shoes, and how much bigger and better this could be if we involved all the athletic programs at Judge Memorial."

At the same time, David and Heidi McMillan, parents of Elli McMillan, a junior and Judge Memorial cross country athlete, were gathering running shoes to take to South Africa in November. David is from South Africa, and this will be their eighth trip. On an earlier visit to South Africa, Heidi donated a pair of her running shoes to Evelina Tshabala, who had previously competed barefoot. She could not afford shoes, as is the situation for many people in South Africa. Tshabala ended up winning the national championship in her donated shoes.

"Tshabala is an amazing person, strong and determined," said Heidi. "She is now an accomplished marathon competitor, has summited Kilimanjaro, and wants to climb the world's Seven Summits by 2008. Sadly she is HIV positive."

"Heidi stopped in my office to talk about something completely different, and I asked her if she knew of an organization who could help us get these shoes to Africa," said Reed. "Heidi said they were going to South Africa and would be willing to take the used shoes with them, but she did not realize there would be so many. We are working on getting these shoes shipped for free."

The service project has snowballed into receiving athletic shoes from the Judge Memorial community, and seven boxes of new shoes from the Utah Jazz.

"Our goal is to make this athletic shoe drive an annual event," said David.

"The shoe drive will run through Oct. 19," said Reed. "Some of the sports are not in season now, but we have received shoes for basketball, lacrosse, cross country, tennis, golf, football, soccer, volley ball, baseball, and swimming. Last week during the Judge Memorial and Juan Diego football game, one of the teachers ordered foam dog bones the students could receive if they brought in a pair of shoes."

Reed is hoping an organization like Project Hope or Delta Airlines will be able to help them ship the shoes. She said someone has to escort the merchandise they send because one never knows where it will end up. The shoes will be delivered to Pinelands Athletic Club in Pineland, South Africa.

"I grew up in Pinelands, South Africa," said David. "When I started running, I ran for the Pinelands Athletic Club, which is a small predominantly white running club. This was during the time of apartheid in South Africa when there was the practice of separating the races. My coach, Dave Spence, was very open and accepting of people of all races who wanted to run. Most of the kids who came to run there were very talented runners who had very little in the way of shoes. They would have one pair of training shoes that were completely worn out.

"I ran for Pinelands until I was 18, and went on to University before I got a scholarship and came to the states," said David. "Heidi and I met in college when I was running for Pennsylvania State University and she was running for Georgetown University in Washington D. C. We still run together. Our oldest daughter, Samantha McMillan, a 2007 graduate of Judge Memorial, is now running for Georgetown.

"When we lived in Utah from 1989 to 1995, we were both running competitively for Saucney, a running shoe company," said David. "We would get more than enough shoes, so we started taking them to South Africa when we went.

"We would give all the shoes we collected to Spence and he would distribute them," said David. "We would take over three or four bags of shoes and the kids would all gather round. Spence would only give the shoes out when the runners had earned them. If they were trying hard in practice, even if they were not running that fast, he would give them a pair of shoes. He kept the better shoes for some of his better athletes."

David said one of the top athletes from South Africa who competed in the 2004 Summer Olympics in Atlanta, Ga., and is now a top marathon runner, wore a pair of David's shoes.

"Our shoes did not get these runners onto the world stage," said David. "They were blessed and talented, but we were able to help them. A lot of the kids run barefoot on dirt trails, but it is much more difficult running barefoot on the roads.

Alastair McMillian, 12, said he learns a lot by donating shoes to those in need in South Africa. In the past, he and his brother and two sisters have bought several loaves of bread and handed it out in a parking lot to children who were hungry.

"All these kids were asking for money, but we gave them candy and bread instead," said Alastair. "If we give them money, the adults will take it away and buy drugs. The kids were really happy and thankful to receive the bread."

"The street markets are a dusty patch in the middle of the town, and the children come to play soccer with a ball made out of plastic bags rolled together and goals made out of sticks," said David. "Heidi had always wanted to teach in South Africa, so she had a passion for reaching out. We married each other and our love for running with this small, low-key out reach project we have done since 1989."

The McMillans' are teaching their children to give to those in need just as David's father taught him. Growing up during apartheid, David learned from his father that we are all one and no race is better than another.