Judge Memorial CHS coach earns UHSAA recognition
Friday, Nov. 22, 2019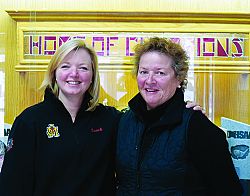 IC photo/Linda Petersen
+ Enlarge
SALT LAKE CITY— Judge Memorial Catholic High School tennis coach Tracey Valentine has been named Girls Tennis Coach 2018-19 by the Utah High School Activities Association. But it's not an award she feels she has earned alone.
Although officially Valentine is Judge's head tennis coach, she said she is really a co-coach with her team: Christie Brightwell and Karl Ward. Valentine and Brightwell have been girls tennis coaches at Judge for five years; Ward joined them two years ago. They also took over coaching the boys team in 2017 after coach Long Le moved on.
Valentine, who is originally from Florida, played competitive tennis through high school and has kept her hand in the game ever since. After she moved to Utah eight years ago, she became part of the tennis community here and, when the position opened up at Judge in 2015, she was offered the job. She happily became part of the Judge athletic community (her children are students at the school) and brought Brightwell with her.
Brightwell played junior and high school competitive tennis. After receiving an education degree from Central Connecticut State College, she taught tennis privately in Arizona for several years.
The third member of the team, Karl Ward, is the head professional at Coach Mike's Tennis Academy. He also teaches at the Salt Lake Tennis & Health Club.
When Valentine and Brightwell took over girls tennis at Judge, the program had been through a couple of coaches in rapid succession and lacked consistency, Valentine said.
"One thing I think Tracey brought to the team is the cohesiveness, of bringing everything together under one umbrella," Brightwell said. "I just really feel like she pulled it all together."
All three coaches work closely with the team members on the court.
"Christie and I really try to put a lot of the decision-making into our captains' hands," Valentine said. "So we really try to make sure we're getting a lot of feedback about what works and what doesn't."
Each also has individual responsibilities. Valentine is the administrator, taking care of all the paperwork, emails and communication with parents and other coaches. Brightwell helps the players develop their skills on the court, while Ward helps them fine-tune those skills.
"Karl has the tennis background to do further instruction," Valentine said. "He knows a million and one drills to keep it interesting on the 30th hot day over 100 degrees, and he's got a great personality that engages the kids."
Meanwhile, "Christie is amazing at helping the kids develop their tennis skills," she said. "She can focus on the tiniest detail and see a problem that a player is having and help them fix it and really make them better tennis players."
"The girls love Christie; she is like everyone's favorite Nana," she added.
Since taking over, the coaches have built a solid program. This year the Lady Bulldogs captured the regional title and came in second in state. Last spring, the boys team performed well, with Luke Pearson taking first at state. Both programs also have a high retention rate.
Still, "every season and every team is unique," Valentine said, so the coaches work closely with each player to fulfill his/her own personal goals.
Valentine said she was surprised to receive the UHSAA award. "We just do what we do; we just feel like we, not in a bad way, just play in the shadow of football season around here, so we're just happy," she said.
The coaches say they get great support from the Judge community.
"The support from this school, from the faculty, the administration, our athletic director – I can't say enough about it," Brightwell said. "Parents and other students are at the top of the list. … It's such a good school; it's equal to the finest prep schools on the East Coast."