Judge Memorial CHS grad is Fulbright scholar
Friday, Jul. 06, 2018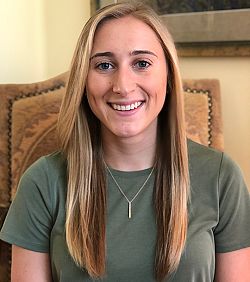 Courtesy photo
+ Enlarge
SALT LAKE CITY — Elizabeth Lewis, 22, a Judge Memorial Catholic High School and Rhodes College graduate, will be living out her dream of teaching English in a Russian-speaking country this fall.
At the beginning of her senior year at Rhodes, she applied for a Fulbright English Teaching Assistant grant and was accepted into the program. In late August she will travel to Minsk, Belarus, where she will be teaching English as an assistant professor of English at Belarusian State University. She expects to be teaching third- and fourth-year university students enrolled in the university's international school of business.
Lewis recently graduated from Rhodes and received bachelor's degrees in political science and Russian studies.
A lacrosse player, Lewis had never heard of Rhodes College in Memphis, Tenn. before being approached by a Rhodes lacrosse coach who asked her to consider going to school there. When Lewis went for a visit, she fell in love with the campus, she said.
"Here was this absolutely amazing school that looked like Hogwarts," she said."I told my mom before I got out of the car I wanted to go to school there."
Her four years at Rhodes "have been everything I wanted and more," she said. "I really, really wanted to go to a small school. Having gone to Judge, I had a close relationship with the teachers there and wanted a similar experience at Rhodes."
As a college freshman she had planned to study biology in the pre-med program, but at the last minute changed her mind and signed up for Russian "on a whim." While studying Russian she got to know a Russian teaching assistant and was impressed by her.
In her junior year, she studied abroad in St. Petersburg, Russia for the fall semester. Along with volunteering at a conversation club where she taught children English, she held an internship at Ambassadors Abroad, a company that runs work-travel programs in the U.S. for Russian university students. She also had the opportunity to play men's lacrosse for the St. Petersburg city team, which put her in contact with a large community of both expatriates and Russians.
In St. Petersburg, she roomed with a Belarusian national, who, she said, provided her with her first real taste of Belarusian culture and history.
"She was constantly telling stories of the summers she spent in Belarus and raved about the beauty of the country," Lewis said. "Listening to her stories inspired me to learn more about Belarus and its unique linguistic history."
In April Lewis shared the news of receiving the Fulbright scholarship with her Judge Memorial CHS German teacher, Arthur Holder.
'I adored Mr. Holder," she said. "After my first German class I came away thinking, 'Wow, I actually learned something.' He really instilled that love of learning languages in me as a freshman that I wouldn't have found anywhere else."
While in Belarus, Lewis plans to examine the role of folk music in building community. Her maternal grandmother was Polish and there was a heavy eastern European influence in their home, she said. Her maternal grandfather was adopted, so he took on his wife's heritage and learned to play the button box accordion – an instrument common in both Belarusian and Polish folk music – and passed his skill and his love for folk music on to his granddaughter, she said.
After her time in Belarus, Lewis hopes to enter the master's program in Russian and Eastern European studies at Georgetown University. Ultimately, she would like to become a diplomat or use her skills at a Washington, D.C. consulting firm, she said.
Currently, Lewis is home in Draper for the summer. She is working two part-time jobs and preparing to leave for Belarus.
Lewis and her family are members of St. Thomas More Parish.