Kearns-Saint Ann Catholic School reopens its early childhood center with social distancing guidelines
Friday, Jun. 26, 2020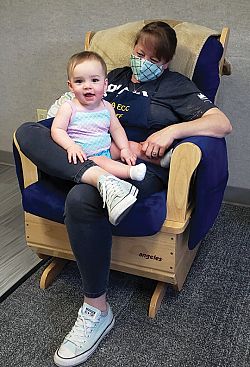 Courtesy photo/Kearns-St. Ann Catholic School
+ Enlarge
SALT LAKE CITY — One side effect of the novel coronavirus pandemic for the Utah Catholic Schools was the temporary closure of the day care centers.
Even as they made the decision to close their doors because of COVID-19, they faced the need for a strategic plan for reopening.
In early April, Kaitlin Dignam, director of the Early Childhood Center of Kearns-Saint Ann School in Salt Lake City, and Susan Nakaba, the school's principal, invited several diocesan day care directors to participate in a weekly Zoom call to discuss reopening of their centers.
"The recap of the meeting was then shared on a second Zoom call with the diocesan principals," said Carrie Lentz, the school's marketing and advancement director.
Because the Kearns-St. Ann Early Childhood Center has smaller class sizes and ample classroom space, it was able to adapt quickly to the new social distancing guidelines required by the government to help prevent the spread of the virus. As a result, the center reopened June 1.
"It was clear that parents needed to return to work and needed childcare," Lentz said. "Not all parents can work from home or utilize family members to care for their children. We wanted to help."
With the approval of Mark Longe, superintendent of Utah Catholic Schools, and Bishop Oscar A. Solis, the Kearns-St. Ann childhood center has implemented the rules and protocols suggested by the CDC and the Utah Department of Health.
Among the protocols that were implemented is the requirement that only the center's staff and enrolled children are allowed to enter the building, "and only after passing a short health assessment every day. Temperatures are taken before entering," Lentz said.
Children or staff who do not pass the health assessment are not allow to enter and are required to stay home until they meet the protocol for returning to the center.
"If a child becomes ill during the day, the designated parent/guardian will be notified immediately. The child must be picked up promptly," said Lentz, adding that they also recommend that the same parent/guardian drop off and pick up the child every day.
Another safety measure in place is that items such as water bottles, sippy cups, bottles and pacifiers are sent home every day to be washed. All toys and surfaces in the center are cleaned and disinfected before and after each use, "or every two hours or four hours, depending on frequency of use," Lentz said.
Although the Kearns-St. Ann childcare center currently is not running at capacity, Lentz expect that most classes will be full beginning Aug. 1, she said.
As of now, there are three staff members in the nursery and two more in the preschool.
"We wanted parents to be able to return to work and not worry about childcare," Lentz said. "It was also good for the children to return to their routines and socialize with classmates. We also wanted to ensure that our staff would remain healthy so they could provide the best care for our families."
Kearns-Saint Ann Early Childhood Center offers year-round, full-time childcare to children ages 8 weeks to 4 years. The center is open weekdays from 7 a.m. to 6 p.m.
"The 3-year-old preschool class and 4-year-old preschool class still have a few spots open. We are currently accepting registration for those classes," Lentz said.
For information about the Kearns-St. Ann Early Childhood Center, visit https://ksaschool.weebly.com/quality-care.html or call 801-486-0741.