Kearns-St. Ann School's International Cultural Fair promotes creativity and education
Friday, May. 13, 2022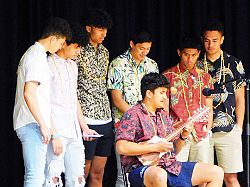 Courtesy photo
+ Enlarge
SALT LAKE CITY — After almost three years of not being able to celebrate their traditional International Cultural Fair, on May 5 Kearns Saint Ann Catholic School opened its doors to family and friends for the celebration of a program featuring their students as well as some from Juan Diego Catholic High School showcasing their cultures and heritages through song, dance and fashion.
For the first part of the Cultural Fair, the bleachers in the school gymnasium were filled with students, faculty, parents and friends, who enjoyed the musical presentations. The second part of the program took place around the gym's perimeter, where the guests were able to browse through educational booths prepared by KSA students.
"Kearns St. Ann School is one of the most diverse schools in the Utah Catholic Schools system," said Susan Nakaba, KSA principal.
"We are so proud to present all these displays as well as the presentations," she said to the attendees at the International Cultural Fair.
Introducing students to different cultures is important "because our school is very diverse. It's amazing to see and learn from everybody's culture," said Mary Joy, whose children attend KSA.
"Diversity among students in education directly impacts their performance," Nakaba said. "Students who learn about different cultures during their education feel more comfortable and safe with these differences later in life."
Seeing and participating in the different cultural traditions allows children "to interact in a wider range of social groups and feel more confident in themselves as well as in their interactions with others," she added.
The Cultural Fair started with a traditional Ukrainian Hopak Dance, which was performed by KSA seventh-grade students. This was followed by an Aztec dance by Hispanic students from Juan Diego CHS. The performances also included an Italian song, Attivita' Di Religione; a demonstration of the guzheng, a traditional Chinese instrument; a Bengali dance; an interpretation of the Tahitian national anthem; and a Columbian dance, among others.
Besides showing the different traditions of various cultures, the International Cultural Fair "promotes creativity, as well as better education, as those with differing viewpoints are able to collaborate to create solutions," Nakaba said.