Lenten retreat focuses on Christ, the Wellspring of Joy
Friday, Apr. 12, 2019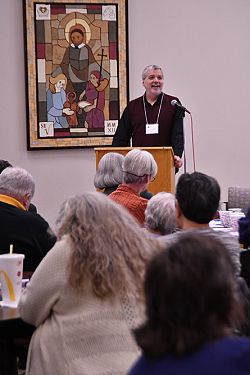 IC photo/Marie Mischel
Photo 1 of 2
SALT LAKE CITY — Joy may seem like an odd topic for a Lenten retreat, but because of the salvation offered by Christ in his victory over the grave, "Lent is already colored by Easter joy," Father Ray John Marek, OMI, said.
Every seat in St. Vincent de Paul's Benvegnu Center was filled April 6 for the English portion of the Diocese of Salt Lake City Lenten retreat, which had the theme "Christ, the Wellspring of Joy."
Fr. Marek led the English section of the retreat. Fr. Domingo Rodriguez-Zambrana, ST was the speaker for the Spanish retreat, which drew about 350 Hispanics from throughout the diocese.
Fr. Rodriguez-Zambrana said that retreats are key for the growth of the Hispanic Catholic Church in the United States.
"The Hispanic Church throughout the nation has a big impact in terms of spirituality, in terms of ministries," he said.
In his talk, Fr. Marek offered significant periods of time for silent reflection and prayer.
"It's very good to kind of stir your soul, stir your longing and open yourselves up to God, who does speak to us time and time again," he said.
In his first presentation, he said perspective in Scripture is important. Scripture can be looked at from a historical stance, as a literary document, in sociological or feminist terms, but "there is one perspective you cannot dispense with. We live and stand on this side of the cross and the Resurrection, and our vision and our sight and what we see and know have been forever changed by the victory of Christ over the cross and the grave," he said. "We cannot dispense with that, because it is core to our identity of who we are as men and women, followers of Jesus Christ. We live on this side of the cross and the empty tomb, and we have to look at sacred Scripture through the prism, the lens of one who has already been redeemed by Jesus Christ, by his victory over the cross and the grave."
Many times at Lent Catholics offer penitential and sacrificial actions "so that we can get God to love us better," he said, but "It doesn't really work that way. It all begins with the salvation that we are given in Christ, by his life, his death, his cross and his victory over the grave. He has loved us with such an immense love that there is nothing we can do to make our God love us any more. Lent is already colored by Easter joy."
"Joy comes when we learn dependence on our creator and our Savior, even if they are only glimpses in times of chaos and suffering," he added.
"From its very beginning Christianity has been about the proclamation of joy, of the only possible joy on earth. At the very bottom of darkness, Christianity announced and conveyed a new and embracing joy, and with this joy they transformed what had been an end into a new beginning," he said.
When the Church loses joy, "we cease to be a credible witness. … Disciples who are grim-faced, disciples who are overly duty bound, who refuse to enjoy the good things that God has given us, are half-baked witnesses. Why would anybody want to walk with us if there's no delight or appreciation, no joy in a life following the Lord?"
This idea is not new, Fr. Marek pointed out. He quoted the "Letter to a Friend" by Fra Giovanni, a 16th-century priest, architect and teacher, which reads in part, "The gloom of the world is but a shadow. Behind it, yet within our reach, is joy. There is radiance and glory in the darkness could we but see – and to see we have only to look. I beseech you to look!"
The retreat ended with a Mass at which Bishop Solis presided. Concelebrating the Mass were the retreat speakers, Fr. Marek and Fr. Rodriguez-Zambrana; Fr. John Norman, pastor of St. Vincent de Paul Parish; and Fr. Joshua Santos, administrator of St. Ambrose Parish.
In his homily, speaking in Spanish and English, Bishop Solis said that the Scripture readings – those for the fifth Sunday of Lent – have a message of forgiveness.
"It means God is not interested in punishing us, but in saving us, freeing from the bondage of sin," he said.
Bishop Solis ended the Mass by asking God to give those who had attended the retreat a new heart, a new spirit, a new joy within them so that they will bear the abundant fruits of the Spirit in their lives. The bishop and the priests who concelebrated the Mass blessed the congregation.
In his final comments, the bishop thanked the retreat presenters and said, "I hope that your inspiration will move the minds and hearts of our people today in our retreat so that our Church here may have and possess missionary disciples filled with joy and enthusiasm in proclaiming the gospel of love for all people."
The bishop also thanked those who attended the retreat for giving of their time. "I hope that this day of retreat has inspired you," he said.