Leo Joseph ("Buns") Walz
Friday, Oct. 04, 2019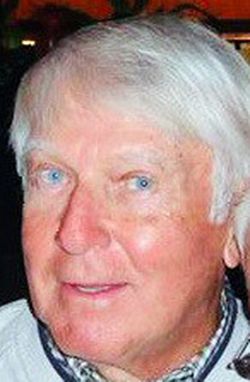 Courtesy photo
+ Enlarge
December 7, 1937 ~ September 21, 2019
Leo Joseph Walz passed away on September 21, 2019 after a long battle with Parkinson's disease.
Leo will be greatly missed by his loving and devoted wife, Jane; his daughter Kate (Derek) Mattsson; his son Joe (Beth) Walz and his grandchildren Emily, Elliott and Dominic Mattsson, along with Joey, Tommy, Johnny and Anthony Walz. Leo is also survived by his sister Bernadette (John) Benvegnu. He was preceded in death by wife Sue and his brothers Mike and Clete.
Leo was born on December 7, 1937, the third born in a family of four. His father, Clete, and mother, Alma, met in Salt Lake while working for the Union Pacific Railroad. Leo's life was molded by strong influences from his parents; he loved both dearly. Leo remained a strong Catholic until his death and was very loyal to his family both immediate and extended.
Judge Memorial Catholic High School served as a school and a community for Leo and his family in the 1930s through the day of his passing. Leo attended first through twelfth grade at Judge Memorial back when the original miner's hospital building served as the school. He was the student body president of the Class of 1956.
Leo attended the University of Utah and graduated with a Bachelors of Arts in economics in 1960. Leo hung out at the Newman Center at University of Utah and developed more lifelong friendships there.
After college Leo started a successful sales career with Maxwell House Coffee. His career spanned four decades and several mergers and acquisitions by General Foods, Kraft and Phillip Morris. Leo was fortunate to retire early at the age of 55.
In August 1965, Leo married Susan Jane Evans; they had a wonderful marriage of 39 years and raised two children, Kate and Joe. Sue passed away from cancer in November 2004. In June 2010, Leo married Jane Holden and they spent a wonderful decade together. As Leo's Parkinson's developed, Jane was at his side 24/7. Jane's love, patience and strength were unbelievable and gave Leo so much comfort and peace as he battled his illness.
A funeral Mass was celebrated on September 27 at St. Ambrose Catholic Church. An urn committal followed at Mt. Calvary Catholic Cemetery.
In lieu of flowers, donations may be made to the tuition fund at Judge Memorial Catholic High School in the name of his brother, Michael Walz.