Local author's book teaches acceptance
Friday, Nov. 18, 2022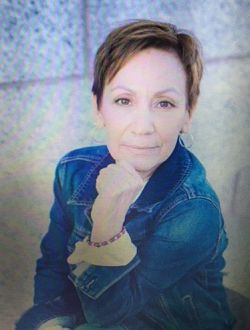 Courtesy photo
Photo 1 of 2
Virginia Rodriguez has been working on a memoir for years. A few months ago, she sat down at the computer to update it, but as she began to type, what emerged was a children's book.
"The story just kept coming up and coming up in my head, and by the end of the day I had a story," she said. "I thought, 'This was not I wanted to write,' and I think it was God's will."
Rodriguez' book tells the story of Big Hair One, a little girl with "chunky" feet who has nothing but some uncomfortable, ill-fitting old shoes to wear to school. After school, the shoes hurt so much she takes them off. When the other children begin to tease her about her feet, Big Hair One begins to doubt herself.
When she returns home, her mother shares with Big Hair One just where her feet came from and the heritage she enjoys, instilling in her a sense of pride and acceptance of her unique characteristics and who she is.
It's this message of self-acceptance that Rodriguez hopes readers will take from her book, Big Hair One with Bear Feet.
"I hope that people will realize that we're all different and that we're all made from God and that we are who we are and that it's OK to be different," she said.
Rodriguez drew from her own life experience for the main character in the story. She was the seventh of nine children who were raised by a loving, single mother who always taught them right from wrong and had a strong, abiding faith in God.
"My mother had a lot of faith in God and in the Catholic Church," she said. "It was very important to her that all of her children received the sacraments of Baptism, first Holy Communion and Confirmation, which we did."
Money was tight for the family, Rodriguez said, and she has known what it is to go without and to be bullied for it.
"I tried to overlook it and just forgive people; I just innately knew that people were not perfect, so it was OK," she said of her own experience. "Even though I was a young child, I took it all in stride."
Rodriguez knows it is not easy for people who are bullied to move past the experience, and her words are written for them. In the book, as Big Hair One learns to accept herself, she lets go of the hurt and forgives those who have tormented her. The book finishes with a prayer for them and for those who are different.
"It's OK to be who you are and accept that you are different, because that's how God made us," Rodriguez said. "He made us all different."
During Red Ribbon Week, Rodriguez shared her book with several classes at St. Francis Xavier Catholic School. She has also had book signings at Barnes and Noble, the Blue Monkey coffee house and other outlets, and was recently featured on Good Things Utah, an ABC4 lifestyle show.
All this happened while Rodriguez was on hospice care. She was diagnosed in 2016 with stage 4 ovarian cancer, but after treatment the disease went into remission. It returned in 2020 and she is now in the final stages of the cancer. Despite her illness, she remains positive.
"I really can't complain; despite the cancer and the past six years I have done so much," she said. "At one point I got so down, then I thought, 'What are you doing? You're still alive. You need to live even if you're dying' and that just kept me going."
Rodriguez also is a published poet. In 2005, her poem "Feathers" took first place at the First Latino/Latina Poetry Contest at the Kimball Arts Center in Park City. Another, "Underneath the Lilac Bush" is registered with the Library of Congress.
A parishioner at the Cathedral of the Madeleine, Rodriguez is the mother of three sons; she has 14 grandchildren and six great-grandchildren. The book, she says, is a part of her that she can leave with them.
"I'm at end of life now and hope it will be a legacy," she said. "I hope that people will realize that we're all different and that we're all made from God and that we are who we are, and it's OK to be different."
Big Hair One with Bear Feet is available on the websites of Barnes and Noble, Amazon and Walmart.