Local Church to welcome new members at Easter Vigil: St. Thomas More parishioner Kelle Ries
Friday, Apr. 02, 2021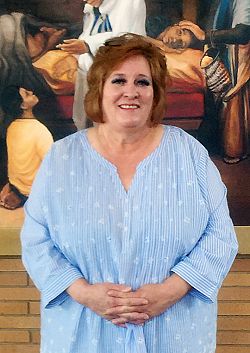 IC photo/Linda Petersen
+ Enlarge
COTTONWOOD HEIGHTS — Although Kelle Ries grew up accompanying her Catholic parents to Mass regularly, it won't be until this Easter vigil at the Cathedral of the Madeleine that she will be baptized into the faith. She's unsure just why it took so long.
Kelle and her family moved to Utah from Montana during her junior year of high school. Her father was a cradle Catholic and her mother converted to Catholicism after their marriage, so the family began attending St. Thomas More Parish. There they became close to Monsignor Terence Moore, who was pastor of the parish from 1985 to 1999 and is now retired.
"He became a part of our family and he still is," Kelle said.
Although faithful Catholics themselves, Kelle's parents did not have their children baptized into the Church.
"I think my parents just believed we would pick when we were old enough to decide for ourselves where we wanted to go," Kelle said. "I always had God in my heart and always the Catholic religion in my heart. It was a long journey to decide to become Catholic for me. I guess life just got in the way; it wasn't that I didn't believe."
Kelle said she visited some other churches to experience other religions, but she did not care for them. Over the years, she often attended Mass with her parents and, after her mother's health failed, began to accompany her father regularly.
Kelle started her journey to baptism more than two years ago.
"I just decided it's always been in my life; I wanted to make it official," she said. "I wanted to better myself, and becoming Catholic was part of that."
As part of that process, she had to obtain an annulment of a marriage that ended 40 years ago; that process took close to two years. Kelle had lost contact with her ex-husband, but the Church helped her locate him and obtain his signature for the necessary paperwork, she said. Another obstacle in her path was that she became ill during her Rite of Christian Initiation of Adults (RCIA) instruction and had to drop out of classes for a while; she completed them remotely during the pandemic.
Kelle, who is single and whose parents live in Florida half of the year, has felt embraced by the parish of St. Thomas More, in particular by the pastor, Father John Evans, and Tami Bernstein, the parish's director of Faith Formation.
"They are wonderful to me; they are like family to me," she said, adding that she also has made what she feels will be lasting friendships with other members of RCIA class.
"I can't thank the people of St. Thomas More enough," she said. "They made my journey very enjoyable, which was a big part of my getting through it."
Kelle is emotional and excited as she contemplates her baptism this week, she said.
"I'm proud of myself for doing it; it has been a long time coming," she said. "I'm so excited for the process and for the actual baptism."
Kelle said her parents are also very proud of her for her decision to be baptized.
"They told me that I have changed a lot since I started this process, and I feel like I have, too," she said. "I'm a lot more comfortable with my life than I used to be. I'm just at peace."
Although her parents will be unable attend her baptism, members of her St. Thomas More Parish family will be there to support her, Kelle said.