Local couples praise NFP
Friday, Jul. 17, 2020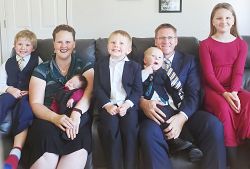 Courtesy photo
+ Enlarge
(Editor's Note: The United States Conference of Catholic Bishops has declared July 19-25 NFP Week. Natural Family Planning is approved by the Catholic Church as a way to prayerfully practice responsible parenthood while avoiding the intrinsic evil of contraception.)
SALT LAKE CITY — Brittnie and Alex Bravo have been married 11 years and have four children ages 10, 9, 5 and 3. The couple made the choice to use NFP in their family while they were engaged, when Alex told his fiancée that it was very important to him to follow his religious beliefs in this area.
Not yet a member of the Church at the time, Brittnie Bravo was skeptical about the idea; she worried that they might end up with "like 15 kids," she said. However, she researched the subject and was reassured to learn that NFP practices could be as effective as artificial birth control.
After they were married, she also found that the practice strengthened her relationship with her husband.
"It has been a huge blessing in our marriage," she said. "When you truly adopt whatever method of NFP you choose and communicate with your spouse and truly open your hearts and minds to God's will, it has not been difficult."
Brittnie teaches an engaged couples introductory session on NFP for the Diocese of Salt Lake City.
"There is still a misconception regarding natural methods that you only use it if you want a dozen kids," she said. "These young couples look at me like I am crazy when I tell them it works; in today's culture the trend is going toward being 'all natural' and sustainable. As a society, we are all on board to do away with harmful chemicals in our laundry and cleaners, yet we have no second thoughts about filling our bodies with hormones it does not need to suppress a system that is so beautiful and just waiting for you to understand it. Yes, it takes time and yes, much patience, but once you understand your fertility and the signs that go along with it, you are so empowered and feel a sense of peace, knowing you are not only understanding your body, but understanding its divine purpose."
Bravo said it is important to her and to her husband to be examples to their children in how they live their lives and in the choices they make.
"As parents and Catholics we truly want to live our faith and show our kids that you cannot pick and choose which doctrine to follow," she said. "God has blessed us with four beautiful children. When you have a child together, it is an act that changes the cosmos. You, along with God, have brought something into existence that will never pass out of existence; the human soul is immortal and is destined for immortal life. What is more incredible than to have created a miracle with God?"
Bravo encourages everyone to read Pope Paul VI "Humane Vitae."
"Open your hearts and your minds to his beautiful and prophetic words," she said.
The Bravos are members of Holy Family Parish in South Ogden.
NFP also is used by people of other faith traditions.
Elizabeth and David Jenkins are members of The Church of Jesus Christ of Latter-day Saints, which does not have an official stand on birth control, although it strongly encourages married couples to have children. The Jenkins first learned of NFP when they were having difficulty conceiving a child.
"I always knew there was something wrong with how my cycle works," Elizabeth Jenkins said. During the search to address her infertility, a doctor introduced the Jenkins to the Creighton Model FertilityCare System, which involves identifying the fertile period during a woman's menstrual cycle. After learning how to track her own cycle, and working with Dr. Joseph Stanford, Elizabeth became pregnant with the couple's first child, now 10.
When Elizabeth experienced adverse side effects to the birth control pills prescribed by another physician to help regulate her menstrual cycle while trying to get pregnant, the Jenkins decided against using artificial birth control in the future.
The couple, who has been married for 14 years, now has four other children ages 7, 4, 2 and 1 month. In the years since the birth of their first child, they have used NFP, specifically the Creighton Model, to space their family.
"It's very easy to do; I've used it for over 10 years now," Elizabeth said. "In the beginning, there's a lot of information to process, but once you process the information and you incorporate it into your daily life, it quickly becomes a part of your life and isn't difficult at all."
Her husband is very supportive of her use of this method.
"I'm a big fan of natural processes; I think that our bodies are really amazing and that God designed us in a way that we just need to give it what it needs to be able to function," David Jenkins said. "This system gives you the ability to really understand what your body is saying and doing."
Natural family planning involves avoiding physical intimacy during those days when a woman is most fertile, on average about nine days a month. While acknowledging that can be frustrating at times, David said the trade-off is worth it.
"Those other forms of birth control add some level of risk to them," he said. The biggest factor for him is ensuring his wife's health, given the side effects she experienced with the pill, he added.
"Having this system there gave us an option that didn't pose any danger, and putting off having intercourse for a day or two isn't that big of a deal really when it comes to her health," he said.
In addition to having practiced NFP herself, Elizabeth also teaches the Creighton Model to other couples, and has learned a great deal, including how her own body works, she said. "Whether it is your intention to achieve or avoid pregnancy, it is really important for a woman's overall health to have a healthy cycle. That has been so valuable over the years, learning that and teaching it to others."
Both women recommend the website www.intermountainfertilitycare.com for more information.