Local priest shares memories of ministering in Ukraine
Friday, Apr. 29, 2022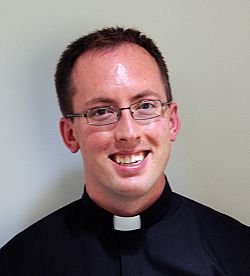 IC file photo
+ Enlarge
RIVERTON — While the world's attention has been riveted on the war in Ukraine, one local pastor has his own poignant connection to the people of that country. Father Joseph Delka, director of the diocesan Vocations Office and pastor of St. Andrew Parish, spent three weeks in Ukraine 10 years ago, while he was a seminary student. He recently shared stories of his time there, and the experiences of a Ukrainian friend, with students at St. Andrew Catholic School.
In July 2012, Fr. Delka volunteered to be a teacher in the Ukrainian Catholic University's English Summer School, which was open to Ukrainian students. During his time there he lived and worked at a retreat center in a small town outside of L'viv.
At the camp a typical day included a Scripture study class, grammar, vocabulary and reading classes, along with an evening activity. Two priests provided daily spiritual direction; they, the faculty and the students celebrated daily Divine Liturgy with Ukrainian Rite priests. Fr. Delka enjoyed the Ukrainian food and music shared by the students. He also became friends with a Ukrainian student who has since become a priest with whom he has stayed in touch.
Before the war broke out in his homeland, Fr. Delka's friend Fr. Taras had been assigned to work in London, England. Two weeks into the war his family in Ukraine fled to Romania, where they met relatives from Slovakia, who took them in.
In the early stages of the war, L'viv, which is located in western Ukraine about 230 miles from the Polish border, was largely protected from the Russian advance that targeted eastern Ukraine and the nation's capital, Kyiv. However, the city recently has been bombed by long-range Russian missiles. On April 18, L'viv Mayor Andriy Sadovyi reported on Facebook that five missiles struck the city, causing multiple explosions, killing seven and injuring several more.
Fr. Delka was unsurprised by the bravery and commitment of the Ukrainian people who have sought to save their country from Russian occupation.
"They love their country; they love their land," he said. "They are very proud of their culture. I can understand why they would fight tooth and nail for their country, as they've shown very well that they are willing and capable of doing."
Moved by the story of Fr. Taras' family, students at St. Andrew School created a spiritual bouquet, where children individually committed to pray specific prayers for them. The bouquet was illustrated with paper flowers made by the students. During school Masses, the students bring baskets of the paper flowers and lay them at the altar.
L'viv is one of the closest major Ukrainian cities to the Polish border and has been the staging area for humanitarian efforts to other parts of the country. Many refugees from war-torn areas have fled to L'viv, and the Polish government has been helping to establish several container towns around the city that will house 5,000 Ukrainians.
Within Ukraine and across 10 neighboring countries, Catholic Relief Services has supported partners Caritas Ukraine and Caritas-Spes in assisting 768,817 people with safe shelter, food and water, information, transportation, hygiene and counseling and emotional support since the start of the conflict.
To donate to Caritas Ukraine, visit https://www.caritas.org/ukraine-appeal-22/ or Caritas Internationalis at https://4agc.com/donation_pages/7f0ab14b-3aca-412c-ad2a-f44bdea89962 for a tax-deductible receipt.