Logan community says goodbye to Sr. Marilyn Mark, OSB
Friday, Jun. 07, 2019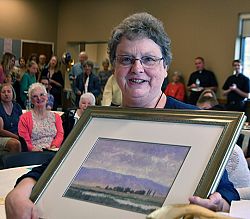 IC photo/Marie Mischel
+ Enlarge
LOGAN — Sr. Marilyn Mark, OSB, who has served as the pastoral associate at St. Thomas Aquinas Parish and as campus minister of the Newman Center for Utah State University since 2013, has been reassigned to by her Benedictine community to serve as the liturgy director for St. Scholastica Monastery in Duluth, Minn.
The parish community in Logan hosted a farewell reception for her following the June 2 Mass at St. Thomas Aquinas Parish.
"I will count on your prayers. As I hope you know, I love our Catholic community in Cache Valley and in Utah," said Sr. Marilyn, who grew up in Utah. She made her final vows at the Benedictine monastery in Ogden, which closed in 2012. During her years of ministry, she served at the parishes of Holy Family and St. Francis Xavier as well as in Logan.
In her comments at the reception, Sr. Marilyn said, "I have loved the opportunity and privilege of serving you as pastoral associate and campus minister. ... What I will miss most about being at St. Thomas Aquinas and the Newman Center is my interactions with you. It has been a pleasure to reconnect with old friends and make some new ones. One never knows when our paths will cross again."
During the reception, Randy Jensen led those gathered in a song, "Thank You, Sister Marilyn," to which he wrote the lyrics and set to the tune of Beethoven's "Hymn to Joy."
In her comments, parishioner Adrienne Ackers said "Sr. Marilyn, everyone here today owes you a debt of gratitude for the many blessings you have brought to the parish since you first came."
Fr. Evan Cummings, a newly ordained Paulist priest who attended UVU and lived at the Newman Center, celebrated the Mass that preceded the reception. Fr. Evan said Sr. Marilyn "helped get a really solid ministry going on a more regular basis. She brought a spirit of renovation to the Newman Center."
As parting gifts, Sr. Marilyn was presented with a landscape by Jerry Furman and an embroidered piece by parishioner JaDene Denniston.