Long-time Utah Catholic School teachers to retire/ Pam Mayeda and Jerry Burchett – Judge Memorial CHS
Friday, May. 18, 2018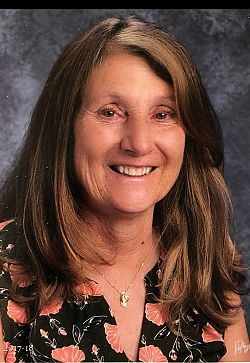 Photo 1 of 2
SALT LAKE CITY — Two longtime faculty members at Judge Memorial Catholic High School, Pam Mayeda and Jerry Burchett, are retiring. They both will be dearly missed, Principal Patrick Lambert said.
Pam Mayeda
"Pam Mayeda is just an original," Lambert said. "She is incredibly supportive of her students. She is just dedicated to the Catholic school system."
Mayeda has taught at Judge for 34 years, first as a computer literacy teacher and then as a social sciences teacher. Teaching was not originally her chosen profession. She had hoped to go into engineering, but her father, an engineer himself, seeing the large pay disparity between men and women in the field at the time, discouraged her.
"He told me he would pay for college if I got into a career where men and women got paid equal pay for equal work, so I went into teaching," Mayeda said, laughing because teaching is one of the lower-paid professions.
Originally from Cleveland, Ohio, Mayeda graduated from John Carroll University with a bachelor's degree in history, only to discover the job market was very tough for teachers in that area. Her parents had moved to Utah so she followed them here and shortly after found a job at Eisenhower Jr. High in Taylorsville. She taught there until 1983, when she decided to take time off to raise her children, Kara, Brian and Kato.
In 1990, Mayeda returned to teaching as a computer literacy teacher at St. Vincent de Paul School. In 1994 she moved to Judge with a group of teachers after the Sisters of the Presentation departed. In 1998 she began teaching social sciences, and continued in that academic area. For a while she served as the department chair at the school.
"I taught computer literacy because that's what a lot of schools were looking for at the time, but history has always been my passion," Mayeda said.
One of the changes she has seen over the years is the increase in the use of technology among students.
"There's an immense difference," she said. "Now, kids can access the world through their devices without having a teacher take them there. It can be a challenge to engage them."
According to her peers, it's a challenge Mayeda has been more than up for.
"She is an amazing person, steadfast and true as they come," said Dianna Pugh, another member of the social sciences department. "She is strict with the students and she embraces them – us too. It comes from a good heart. In a world with no parameters, you always know where Pam stands."
Her time at Judge has been rewarding, Mayeda said.
"What I especially love the most is having the graduates come back and seeing what a success they have become," she said. "It's exciting that they want to come back and share it with their teachers here."
Lambert described Mayeda as a spitfire who calls things the way she sees them.
"She has kept the administration on their toes her entire time here," he said.
"That's always the way I've dealt with people," Mayeda said. "I've also found that it's an effective way to make a situation lighter if you can tease a student a little bit to call attention to an issue that needs to be taken care of."
Mayeda said she will miss daily contact with her colleagues at the school. "I will also miss the 'thank yous' from the students," she said. "So many of the students here at Judge don't leave class without saying thank you. It really makes you feel appreciated."
All three of Mayeda's children, Kara, Brian and Kato, attended St. Vincent de Paul School and Judge. Kara and Kato both graduated from Catholic universities.
With retirement, Mayeda and her husband, Fumio Mayeda, who are St. Vincent de Paul parishioners, will "just for the first time in a long time get to spend time together."
Jerry Burchett
Jerry Burchett was born in Boise, Idaho and his family moved to Salt Lake City when he was 7. He attended Catholic schools growing up and is himself a Judge graduate.
He came to a career in education in an indirect way. Not knowing what he wanted to do when he left high school, he got an associate's degree in building construction from Salt Lake Community College. From there he worked for the Forest Service for nine years.
During that time he worked with young people in the Youth Conservation Corps program and as a volunteer for Special Olympics.
Realizing that he loved those experiences, he went back to school and earned a bachelor's degree in special education from Utah State University and later a master's in clinical psychology from the University of Utah.
He taught in the public school system at Bingham High School until 1984, when he joined Judge's faculty as a counselor and assistant coach.
"It has been incredible," Burchett said of his time at Judge. "I can't imagine working at a better place where you're surrounded by people with similar values. There's an opportunity to pray every day, which makes being a good Christian every day easier and is a continued opportunity to develop faith."
Burchett is loved and respected among his peers. Jeanette Sawaya, a counselor and teacher at the school, came to Judge the same time Burchett did.
"He's probably one of the most dedicated and kind people – and counselors – you could meet," she said. "He is very committed to his job and to his students. He always goes the extra mile. When I'm leaving school, he is often sitting with a student working on math problems or other issues they might have."
Burchett recently received the school's Outstanding Educator award.
"Jerry is an incredibly kind counselor," Lambert said. "He always has the children's best interests in mind. He practices what I call 'super counseling' – if there's a way to make a schedule work for a child, Jerry will be up until 10 p.m. to make it work. Parents know Jerry will absolutely love their child and make it a good experience for them."
A member of the Burchett family has been at Judge in some capacity since 1966, when his older brother started there. Burchett, his three brothers and two sisters, his nieces and nephews and his four children – Sarah, Mary, Laura and Emily – all graduated from Judge.
A great outdoorsman, Burchett has maintained his love of the outdoors since his time in the Forest Service. Sawaya, who lives in the mountains, said almost every year since she has known him Burchett has come cross-country skiing most winter weekends and has skied to the top of U.S. Able in Big Cottonwood Canyon and has done two or three runs each time.
"He has a great respect for the outdoors and has taught me so much," she said.
Burchett is married to Cynthia Burchett, a vice principal at St. John the Baptist Middle School, who is also retiring. The couple has three grandchildren with another on the way. They are members of St. Ambrose Parish.
Once the couple retires, they plan to spend more time with their daughter Sarah and their grandchildren.
"I am so appreciative of the opportunity I have had to work at a school like Judge," Burchett said. "It has been a wonderful way to spend my career and I feel really blessed."
Lambert was himself a student of Mayeda's, and had Burchett as a counselor.
"It's incredible to be taught by them," he said. "It's even more incredible to be on same team with them."
Mayeda and Burchett will be honored at a May 18 faculty luncheon.