Luis Jibran Santos
Friday, May. 11, 2018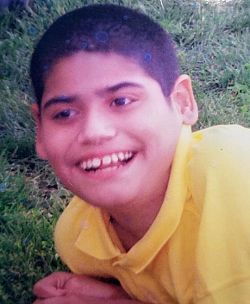 + Enlarge
February 17, 1990 ~ April 15, 2018
Luis Jibran Santos, 28, left this life on April 15, 2018 at the University of Utah Hospital, surrounded by many of those who love him.
He was born February 17, 1990 in Yuma, Ariz. to Nieves and Ana Luisa Burrola Santos, the third of four boys.
'Jilan,' as he was known to his brothers, brightened the lives of everyone who knew him through his beautiful, pure spirit. Although his body was limited physically, his soul exuded light and love. His smile was infectious and his eyes were the biggest, most gorgeous brown eyes you've ever seen.
Luis attended Con Amore School from the age of 5 until 18. His teachers loved caring for him.
He is survived by his parents, Ana and Nieves of Roosevelt; brothers Armando (Stephanie) Santos of Riverton, Octavio Santos of Roosevelt and Ramon Santos of Orem; foster brother Michael; grandmother Alba Sanchez of Arizona; nephews Dominic, Brendyn and Adan; and niece Kenna.
He was preceded in death by grandparents Armondo and Ramona Santos, and Lizandro Burrola.
A funeral Mass was celebrated April 19, 2018 at St. Helen Catholic Church.
Condolences may be shared at www.hullingermortuary.com