Madeleine Archuleta
Friday, Sep. 07, 2018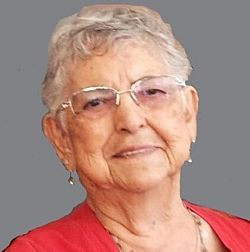 + Enlarge
August 20, 1927 ~ August 21, 2018
A day after her 91st birthday, Madeline passed away peacefully at home on August 21, 2018. She had recently celebrated her 71st year of marriage to her lifelong love, Benjamin Archuleta. Dedicated to her husband, five daughters, 14 grandchildren and 23.5 great-grandchildren, she prayed for us all, especially for those in most need at the time. She would light up to see any one of those kids walk through the door. She raised her family with hard work, great cooking, good humor and song. We are grateful for the clean house, green chili, tortillas, good coffee and especially for making us laugh.
Early in life she raised a garden, fished, rode horses and canned anything she could get her hands on, including chokecherries. In retirement, her great joy was hooking up the travel trailer and heading south to meet friends and family for bingo, drinks and storytelling.
Here we are, wondering how we are going to live without her: Ben (Madeline's 24/7 caregiver) – Dad, you are our hero; how do we ever thank you for taking such good care of mom? Daughters: Evelyn (Gilbert) Ulibarri, Priscilla (Joe) Quintana, Pat Archuleta, Carol (Skip) Watts and Shelly (Matthew) Archuleta-Boyce.
Mom's strong faith, loving influence and well-placed guilt moved us to work hard and love each other.
Madeline is survived by two brothers and two sisters. She was preceded in death by her parents, Frank and Frances (Ocana) Martinez; three brothers; a sister; a granddaughter and son-in-law.
We would like to thank Brooklyn Bell of Good Shepherd for the loving care she gave our mother.
A funeral Mass was celebrated Saturday, August 25, 2018 at the Cathedral of the Madeline. Burial was at Mount Calvary Cemetery.